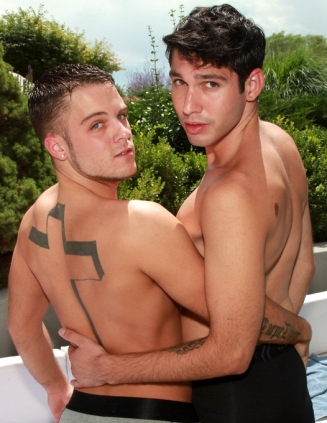 Zeno Kostas and Sebastian Wilde are caught in an awkward situation…sun tanning with their cocks out, but since they're already naked, why waste such a great opportunity to get some fucking in! All it takes is a gentle suggestion and these boys are going at it, kissing and making out, Sebastian sucks on Zeno's nipples and holds his cock in his hand as these two studs get hot and horny.
Sebastian stands up on the bench and shoves his cock in Zeno's face, and Zeno takes that dick in his mouth and gags on it. He gets it sloppy and wet as he gives Sebastian some amazing oral, and then they switch roles and Sebastian is going down on Zeno. But Zeno takes it to the next level as he sticks his face in Sebastian's ass and licks his hole, playing with his entrance with his fingers before rimming a little more. Zeno gets Sebastian's ass nice and wet and slides his big prick right in, pumping slow at first so his ass can adjust to Zeno's size, and then picking up the pace as Sebastian moans in pleasure.
Sebastian climbs on top of Zeno and sits on his dick, letting Zeno fuck him raw as he Sebastian bounces up and down on that cock. But when Sebastian gets on his back and spreads his legs wide for Zeno, it's not long before these two boys are busting a nut, and Zeno shoots his load right into Sebastian's tight ass! No better way to finish this hot scene than with a creampie!