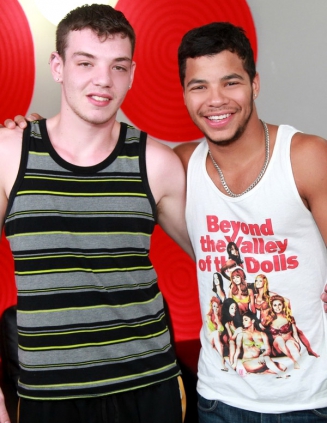 Ryan Fields is just a quiet guy by nature, he likes to draw and swim and that's about all we know about him, so we've paired him up with Kaden Alexander, one of the most outgoing, energetic guys we've got! It makes for a pretty hot combination, and as they strip and climb on the bed, Kaden kisses his way down to Ryan's dick, massaging his balls as he gives some amazing oral.
He spits and sucks on that cock until Ryan stops him and wants a turn of his own, giving him head while Kaden jerks Ryan's prick from the side. Ryan licks Kaden's dick up and down, getting it sloppy wet before they lube up and Ryan climbs on top of Kaden and sits on that bareback cock.
He goes down slow at first, giving his tight ass a chance to adjust to Kaden's impressive size before Kaden can't wait anymore and fucks him hard and fast and raw, pounding him until he cries out in pain. They try a different position, seeing if that helps to ease Ryan's pain, but it doesn't seem to make a difference, Kaden is just too rough and wild to go slow for anyone! All this bareback ass pounding is enough to get both of these studs off, and they cum all over as they stroke one out.