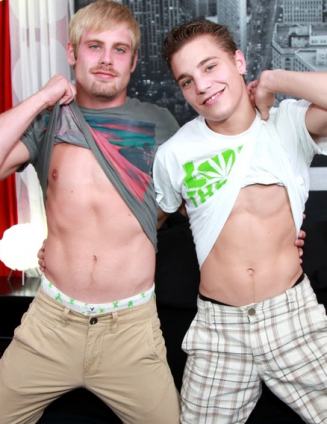 Tyler and Tate keep busy, whether it's spending time up in the mountains or partying like a rockstar in the big city, but at some point these boys need to take a break and bust a nut…and that's exactly what they're here for! They strip, the boxers come off, and they swap some spit before Tyler goes down on Tate, sucking on that big cock like it's the best piece of meat he's ever had.
But when Tate returns the favor, he gives a little extra back as he starts with some rimming, licking and fingering Tyler's asshole before get gets to work on that dick! Tate kisses up and down Tyler's toned stomach and gives his cock a little extra attention before he bends over on the bed and offers his ass up to Tyler.
Tyler doesn't hesitate to stick him with his hard prick and he pumps him full of his dick, shoving a couple fingers up there just to feel how tight it is! Tyler fucks him side to side and on his back, pounding that ass hard and fast until both of these boys can't take anymore and stroke one out all over Tate's impressive abs!