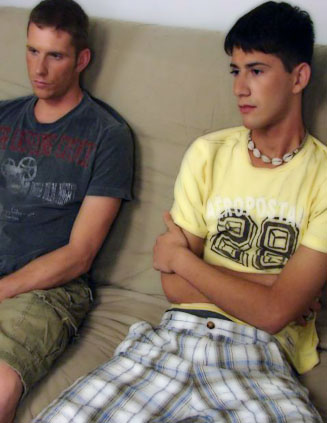 Anthony and Jacob came back for another shoot that I offered them the last time that we did a
shoot. I told them that they had to do some oral action to make a $1000 for doing a shoot. I was
trying to find out how things in their lives have been going since the last time they did a shoot for
me. Anthony was a little nervous and didn't really like the idea of having a dick in his mouth. The
money wasn't the issue, it was doing oral. Turning the camera to Jacob he had broken up with his
girlfriend after finding out that she had not only cheated on him with Anthony, but also another guy
as well. He is now, playing the field and enjoying just having fun and not being committed. Anthony,
doesn't have a girlfriend either, and is just partying all the time.

I had the guys start to get undressed and they did so by starting with their shirts. Working their way
down to the bare skin, they were naked rather quickly. I had them stand in front of each other and
touched the other one's dick. Taking a seat on the couch, I told Jacob to go ahead and start to give
Anthony head. He was a little shocked that we were starting it right away. Leaning over and taking
the limp cock in his much, Jacob started to suck the cock. Anthony would suck as he moved his
mouth up and then release as he went back down with his mouth. He paused after a moment and
asked how he was doing, and I told him to do whatever he wanted. Jacob was getting hard, and
even though he was a little uncomfortable by the situation. Jacob put his hands on the back of
Anthony's head and started to direct him with what to do. There was a rock hard penis now in his
mouth and it was good to see that he got hard with that going on. Reaching over Anthony took a
hold of Jacob's dick and jerked him off at the same time he was getting a blow job. Jacob got hard
from being touched, and that was a good sign.

Switching the two of them around it was now time for Anthony to get his mouth ready for a nice,
juicy cock. He started by licking it first to get a little comfortable before placing the tip in his mouth
and going down. He did fine sliding the dick over the cock, and started to cover it with his saliva.
Jacob was really enjoying this and seemed to get very hard by the blow job. I told him to go ahead
and reach over to help Anthony out at the same time. After a while, Jacob wanted to stand forcing
Anthony to get on his knees in front of him. Anthony would glance up at Jacob to ensure that he was
enjoying this blow job. Jerking him off, licking his balls, Jacob's cock was getting a lot of attention.
Anthony sucked on Jacob's balls as he jerked off above his face, and was ready to receive a facial.
However, it was a false alarm and Jacob wasn't ready.

Changing places Jacob returned the favor and started to give head to Anthony once more. The two of
them were very good at giving oral to each other and changing positions without me really having to
tell them. Quickly standing up Jacob stood up and shot his load right on Anthony's chest. Anthony
stood up and ran off the set because he was grossed out. Having both guys sit back down I wanted
to have them listen to another idea that I had. I wanted to see them fuck, due to the fact that they
were doing so well with one another. Both guys said no way, but when I asked them what it would
take for them to do it, they started yelling out numbers. I told them both that all they had to do was
try it and if they didn't like it I wouldn't use the footage. So, who knows if they were show for this
next shoot, I guess we will all have to wait to see if they call me back for more money.