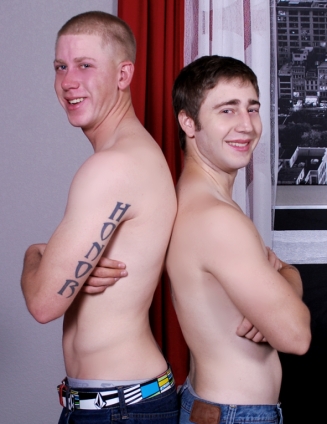 Didn't you smile when you saw Brandon Beal was in today's update? Didn't you get a woody after hearing the cameraman say the following to the hottie:
"Any day Brandon gets fucked is a good day," the cameraman observes. "For some people. Maybe not for you."
Can't complain when Brandon tops, but let's be honest. His azz is meant to be explored. So nice, round, and fully packed! LOL! While we might like Brandon putting his legs in
the air, he has doubts. Especially considering the size of Sonny's dick.
Sonny is glad to be back. He's not been doing much. No lady love, alas.
"Too single," Sonny says.
Brandon is having a "dry season" when it comes to the ladies, which is really crazy! What gal wouldn't want to bed him?
The two get out of their clothes and jump on the bed. Brandon sucks meat first, getting Sonny all excited. That tool stretches Brandon's mouth to the max.
"Oh, shit," Brandon whispers.
Sonny pushes Brandon's head down, trying to make him take more cock. Brandon can only get half way down.
"Damn. That's big," Brandon notes.
Sucking noises fill the studio. Those and Sonny's heavy breathing. Doesn't Sonny look cute with his mouth open? LOL!
"Show me what you can do," Brandon says.
"That I will," Sonny replies.
Brandon gets on his hands and knees. Sonny puts on a condom and some lube. The moment his tool hits Brandon's hole, the boy with the sweet booty begins to moan.
"Damn that's big," Brandon whimpers.
Sonny long dicks from the start. Brandon takes every inch of the mighty shaft. He holds on the bed and holds on as Sonny fucks like a beast.
"You like that tight little hole," Brandon asks.
"I love it," Sonny answers.
Who wouldn't? LOL!
Sonny grabs a pale butt cheek and pounds away. Brandon gets on his side, his own johnson stiff and hard. Sonny returns to breaking Brandon in. Brandon beats his meat as he
gets stuffed, a leg held in the air.
"Oh, my god," he moans.
The boys change positions one last time. Brandon's legs straight in the air. Sonny grabs both calves and returns to fucking.
"I love your tight ass," Sonny notes.
"Yeah? Fuck that ass, bro," Brandon replies.
Brandon demands to be be pounded and Sonny obliges. The bottom closes his eyes and let's Sonny do what he likes. Soon enough, Brandon busts a nut. His man cream lands
all over his stomach.
"I like that," Sonny says, as he keeps pumping away.
Finally, he takes his tool out and strokes for his load. Sonny's jizz first strikes Brandon's chest.
"That was amazing," Sonny says.
"Yeah, I know. Right," Brandon adds.
Hard to disagree.