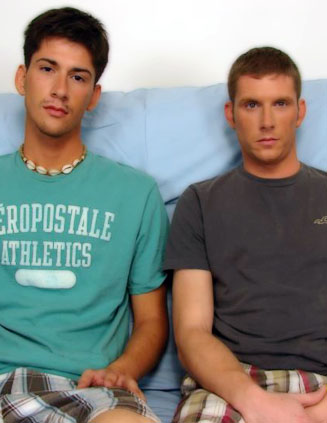 Jacob is 24, straight, from Tampa and he came down here to make some money, because his
roofing job has slowed down. As of right now, he has a girlfriend, but just found out that he has been
sharing her with another guy. Then, there was Anthony, who is 20, straight and he is the guy that
was sharing the girl with Jacob and neither one knew it. He doesn't have a job right now, and he is
looking to make some money to pay for a cell phone and insurance bill. Neither one had a problem
jerking off next to each other and both had never done this before. Anthony was a giant at 6'2"
compared to Jacob's 5'7" however both guys looked hot sitting there in front of me. They stood up to
get undressed and expose their naked bodies to the camera. When they got to their underwear they
stopped and sat down. I had them start to play with themselves to get turned on.

Both guys were watching the porn, and I noticed that I needed to turn up the sound on the TV in
order for them to start getting hard. Jacob went for the lube bottle and stood up for the camera. He
wiggled his dick around for the camera, and had a very playful manner. Anthony was being shyer,
and I had to tell him to whip it out for us to see. The two of them were hard, and so far I wasn't
seeing any issues in the shoot. Anthony had a huge cock, and he was stroking his cock from the base
to the tip. I moved in close to watch him pure on some lube and then use two hands to jerk off. They
were defiantly comfortable around each other, but Anthony was the one that wanted Jacob to stay
on his side of the couch.

Watching Jacob he was very in tune to the porn, and he looked hot jerking off with his smooth chest,
great legs, and a nice size cock. One thing that I noticed was that he would pinch his nipples a little
bit to get turned on. In watching both of them at the angle their bodies were positioned on the
couch, you could see that they had great abs. Anthony was the first one that gave me a warning that
he was getting close to giving me a cum shot. When he did shoot his load it hit the floor and covered
his hand with a huge load size. Following was Jacob's turn to shot his load, and the pressure was on.
Adding some more lube to his cock, he put his game face on as he went to town on his dick. He
stroked it faster, harder, and was doing everything he could to finish. Straightening his back, and
tightening his muscles, his breathing started to change. He then shot his load right between his legs,
getting it everywhere.

I then offered the guys to come back for some more work, but if we did then I was going to want to
see them jerk each other off. Plus, I wanted to see oral go both ways for $1000 each. Both Anthony
and Jacob gave me the same response that they would think about it and then get back to me. I will
have to wait a couple of weeks, and hopefully they will want the extra work.