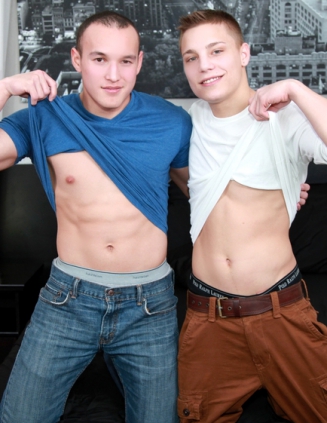 JJ's about to lose his virgin ass to Tyler, and he's definitely a little nervous about what it's going to be like to have a rock hard dick shoved up his ass...but he's about to find out! These two studs jump right in as Tyler goes down on JJ first, giving him some amazing head before he gets his own cock sucked by JJ, who works Tyler's dick up to it's full potential before he gets on the bed and prepares to take a dick for the first time.
Tyler is gentle at first, going in slow and letting JJ get used to the feeling of his ass stretching around his thick cock before he pounds him harder and faster as JJ bottoms like a champ! Once JJs sore virgin ass has had enough fucking for one day, JJ bends Tyler over the bed and slams into him, claiming that tight little ass as he pumps him full of his dick.
Tyler begs JJ to slow down and lets out some cries of pain as his ass still isn't used to getting slammed, but JJ doesn't slow down and keeps fucking him until Tyler busts a nut all over, followed by JJ who cums onto Tyler's toned stomach.