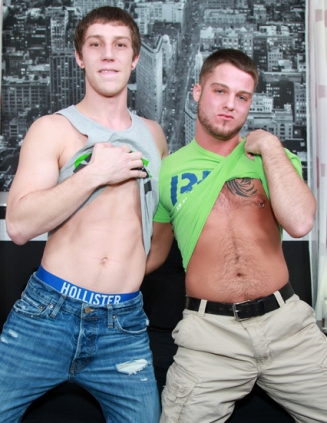 Zeno is having some doubts about his willingness to fuck a dude in the ass…but obviously we've found this straight little Greek God's price because here he is, ready to fuck. And Paul is there to be his helpful little bottom, teaching Zeno the ropes of taking a guy in the ass.
Stripping, kissing, and cock-sucking ensue as these two get hot and heavy, and we think Zeno enjoys this more than he'd like to admit judging by the way he slobbers all over Paul's huge cock, not afraid to get a little messy for the sake of pleasure. Paul returns the favor, working Zeno's pierced prick with his hot little mouth before letting him shove his bareback dick so far up his ass that he can taste it.
Zeno gets Paul on his side as he fucks him like that, playing with Paul's junk as he pumps his cock in and out nice and slow, letting Paul feel every move as he claims that ass for himself. Zeno likes bossing his little bottom around as he gets him on his back and makes him squirt his load all over, fucking him raw as he cums. Zeno pulls out and adds his own hot jiz to the mess! For a guy that wasn't too sure he wanted to fuck another dude…we think he did a damn fine job!