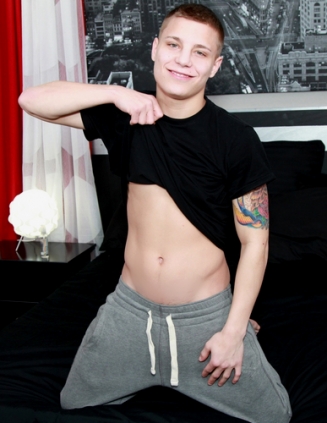 Tyler White is a 21-year-old stud from the East Coast who's easing his way into the idea of having another guy sucking on his dick, eatin' his ass and fucking him hard…but that'll all come later! For now, this arrogant, confident, well-toned and tattooed hottie is gonna show us how he works his cock when he's all alone!
He shows off that sexy, smooth body of his, making you eager with anticipation to see what he's got hidden under those boxers! He feels himself up, teasing his dick through his underwear before finally letting us get a good long look at that thick cock, and once it's out he gets lost in his own pleasure as he rubs his meat and puts on a show and this solo scene heats up real fast! He spreads his muscled legs and works his member from behind, giving us a privileged view of his super tight virgin-ass (and you can't help but want to see it get fucked soon) before getting comfortable on the chair.
He yanks on that massive dick fast and hard and strokes one out, shooting his load all over and enjoying the feeling of his cum-coated cock in his hand as he continues to slowly work it until he's squeezed out the very last drop. Tyler's got some promising talent on camera and an ass that's just begging to be fucked…we can hardly wait to welcome him back in for his next scene!