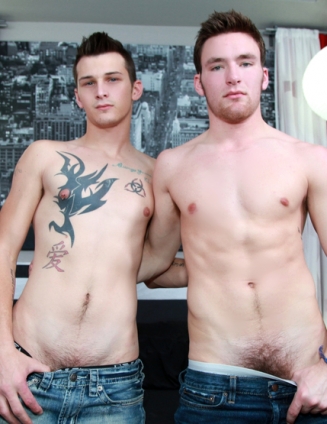 Jaxon Ryder is back in the BSB studio. Sitting next to him is Ian Dempsey, and we all know Ian makes everything better. The stud got the call to see if he wanted to earn some extra cash, and he jumped at the chance. "When you get a phone call, 'Hey do you want to help out,' of course I'm going to help out," he explains to the cameraman. "So you're the good humanitarian Broke Straight Boy," the cameraman replies. Ian likes this description. "Yeah, I'm a nice guy," Ian says. "Help a brother out." Dear Ian: there are so many brothers, and sisters, who want some of your assistance! LOL!
The boys get naked and compare boot-ays. Don't want to prejudge here, but Ian's buns are fluffier than Jaxon's. The dudes share some romantic kisses. After the lip lock, Jaxon takes a seat and opens his warm mouth. Like a good newbie, he takes every inch of Ian's tool. Sucking sounds fill the studio. Jaxon briefly looks up, but gets back to his duties. Soon it's Ian's turn to do some blowing. He gets on his knees and deep throats Jaxon's meat. Ian knows how to make a schlong happy and plump. Gets that shaft slick with spit. Jaxon leans back and murmurs words of encouragement. Even gives his "I'm excited" lower lip biting. LOL!
Time for fucking. Jaxon puts on a condom and Ian takes a seat. The bottom boy groans when that sausage fills up his hole. The groaning gets louder when he goes up and down. Don't worry about Ian hurting. Look at his cock. Hard as granite. His spot is getting the attention all bottom boys crave. Ian moves to the bed, on all fours. Jaxon's salami finds its home again and pounds to the balls. Those pearly cheeks look so sexy getting parted by a pole. Jaxon is pounding that boy pussy, making the cheeks jiggle. Ian gets on his back for some more fucking. Jaxon knows where to put his cob. And of he didn't, Ian would tell him. LOL! Ian beats his meat as he gets stuffed. He so needs to pop and does. The jizz lands all over his lower stomach, making it wet and sticky. Jaxon takes a few more strokes before pulling out. He jerks his johnson until it explodes, coating Ian's pubes. "And scene," Ian whispers. So? What did you think of the scene?