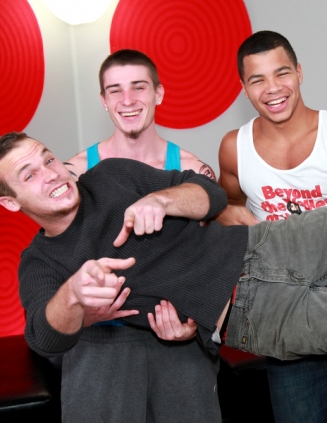 "It's a good day to get fucked." This line of poetry is uttered by Romeo James. The cutie is standing between studs Cage Kafig and Kaden Alexander. Cage informs Kaden he needs to moisturize because he's ashy. Kaden confesses to the affliction but Cage shows how lube can clear that problem up. "So if you're ever out of lotion, make sure you use your local Swiss Navy lube," Kaden says into the camera. Trademark that Swiss Navy! Trademark it!
There's no script to today's scene. They are just going to wing it. "Threesomes are too hard to plan out," Kaden notes. Clothes are removed, with Romeo standing on the bed, Cage in front of him, on his knees, and Kaden under Cage. "Get that motherfucker hard for me," Cage demands. Kaden does what he can and Cage follows suit on Romeo's rod. Soon all that can be heard are moans and sucking sounds. "Like that," Cage asks Romeo. Romeo offers a contented "yes." Kaden is quiet because he's too busy sucking away at Cage's big ol' cock. "Get down and suck him," Cage suggests to Romeo. Romeo does what he's told, and Kaden keeps slurping. Romeo gags a few times, trying to get used to Kaden's size.
Kaden's hot ass will be parted first today. He gets on his back, and Romeo puts his pole in the man hole. The bottom lad would moan out loud, but his mouth is stuffed with Cage's meat. Cage face fucks Kaden and Romeo fucks the other end. Kaden's holes are being royally plowed. Romeo grabs Cage and gives him a kiss. Why not? They both are having all the fun. The time comes for Romeo to get his ass tapped. He gets on his back and Cage points his donkey dick to that "boy pussy" (as Kaden calls it!). "Slow at first," Romeo begs. "Not so deep." Kaden is on the bed, and Cage sucks that meat as he rams it to Romeo. The poor boy is trying to keep Cage from going in far, but Cage isn''t paying any of that any mind.
"Let me try some of that," Kaden whispers as he dips his wick in Romeo's warm mouth. Romeo is now getting his holes stuffed. However, Kaden wants a go with the tighter one. "Easy bro," Romeo whimpers as Kaden gets his share of the booty. He fucks and sucks Cage's dick. Even licks Romeo's toes for good measure. "Suck that dick," Cage demands. You can only treat holes this way for a certain amount of time before there must be a nut. Romeo's man milk shoots out, landing on the side of his stomach. Kaden pops next, leaving his seed mixed with Romeo's. Cage is next; his jizz shoots out, covering Romeo's stomach and chest! That's a lot of cum on one person, but the tired models do find a use for it. Kaden's sweet looking calf isn't ashy anymore after getting swiped down with juicy jizz! Better than Swiss Lube! LOL!