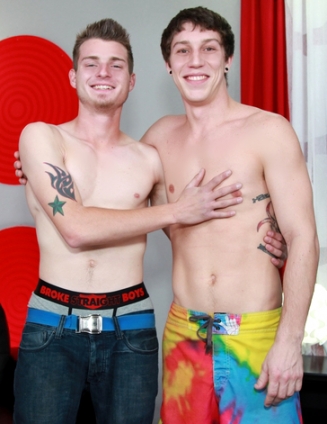 Paul and Tristan. Tristan and Paul. What else do you need in this cold, cruel world? The hotties are sitting next to each other, clothed in bright colors. Tristan still has his gig at the carwash, and shares stories about what a pain it is to work in the cold weather. Dear BSB Nation: make sure to tip when getting your car cleaned. As for Paul, he's moved and has a new dog. Her name is Duchess and is a pit-bull. "She's going to be a bad bitch. You just wait," Paul says.
The lads get rid of their clothes, and Paul immediately starts blowing Tristan. In a few moments, Tristan's tool is bloated and wet. Paul plays with his pole as he sucks way. The studio is filled with Tristan's moans and Paul's slurping. He takes a hold of Tristan's nuts and gives them a gentle pull. This makes Tristan all romantic because he grabs Paul's head and gives him a quick kiss. Paul gets on his back and Tristan returns the oral favor. He doesn't need to do much to get Paul at full attention, but all that meat can barely get down Tristan's gullet. Even as Paul pushes his pelvis up, there's only so much dick Tristan's juicy mouth can handle.
Tristan sits on that salami he made hard. Doesn't really get a chance to get used to the stuffing because Paul fucks hard from the start. "Come on," Paul commands. "Ride that dick." Tristan follows the orders, but the ride is bumpy at times. He gets up and gets on his hands and knees on the chair. "Go down some," Paul orders. Tristan does and Paul is in that man hole again, busting Tristan good. Paul is going to the balls, and Tristan is taking it like the good bottom he is.
For the last round, Tristan gets on his back. Look at his face as he gets pounded. Mix of pain and pleasure. He holds on the bed as Paul invades that man canal. But you can only have your joy button hit so many times before it's time to bust. Tristan's nut shoots out and lands all over his belly button. Paul pulls out, and jerks his meat. The second stream of his load lands right by Tristan's ear. "I was aiming for his face, but I can never get it to go there," Paul tells the cameraman. The cameraman reminds Tristan that his dick got hard while not touching it. Can anyone blame him? Wouldn't you get hard if Paul were inside of you? :-)