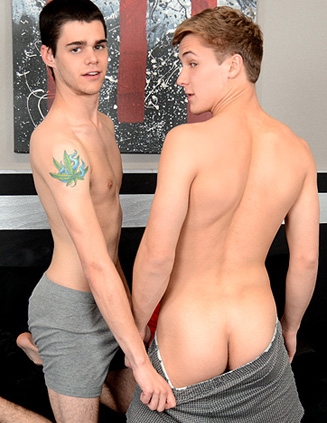 Skyler Daniels and Ayden Troy will be your video stars today. As the cameraman notes, it's always good to have Skyler around because of his accent.

"Cause I ain't no for real cowboy," Skyler says with a smile.

Ayden can never seem to keep his wallet full of cash, so he's back. Be honest: many of her are pleased of Ayden's lack of book keeping skills.

The last time these two met, Ayden did the fucking. The tables are turned, with Skyler getting the chance of busting male tail.

"This is like a revenge fuck," the cameraman adds.

Skyler does little to disabuse Ayden of that notion. The two quickly strip, with Skyler setting the record for clothes removal in all of BSB history. He hits his knees and sucks first.

Ayden closes his eyes and grooves to the blow-job. He grabs the top of Skyler's head and gently guides him to his crotch. Skyler needs no directions, and looks up to make certain he's doing it right. That hard dick in his mouth gives him all the information he needs.

The lads switch positions, with Ayden offering his warm mouth to Skyler's shaft. As has been mentioned before, Ayden is top notch when it comes to giving blow jobs. He slowly swallows, and knows the importance of tongue. Skyler's moans are so low you can barely hear them. His tool, however, is loud and clear.

"You ready for fun time," the cameraman asks Ayden.

He isn't but it's too late. He gets in the doggie position. In the mean time, Skyler puts on a condom and slathers up the lube.

"Oh, my god. Fuck," Ayden moans when Skyler gets in that hole.

This is a revenge fuck. Skyler goes balls deep from the start. Does not allow his bottom to get used to the anal invasion.

"Tight ass," Skyler observes.

He's breaking that ass in, like all the others who did him the same way. Ayden puts his face on the bed and whimpers. Each time his spot gets hit, those toes curl on themselves.

"Oh, my God," Ayden moans.

Ayden is turned on his back, his salami hard and juicy.

"Oh, yeah. Fuck me," he whispers.

Skyler needs no encouragement. Notice how Ayden puts his hand on Skyler's chest to keep him from drilling so deep. Ayden jerks his tool, doing his best to nut. He needs some lube, which Skyler hands him mid-stroke. LOL!

Eventually Ayden shoots a load that coats his pubes, side, and upper stomach.

Skyler is next. His nectar scatters all over Ayden's stomach.

As for Ayden's butt hole, it's been properly busted.

"It hurts. A lot," Ayden insists when asked about the status of his man pussy.

You'll be OK, Ayden. You'll be OK! LOL!