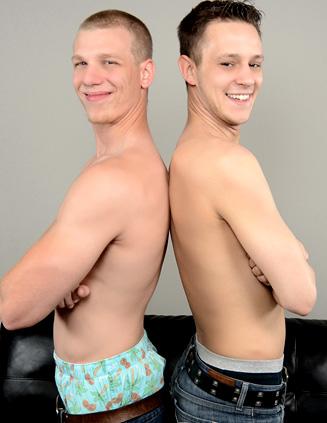 Some of you will need to fight that green-eyed monster during today's video chitchat. We learn that our beloved Jason Matthews has a gal pal.

"She's tall and leggy," Jason says to the Clay the cameraman.

She is a dancer, the artistic kind, and is pimping her man out. She knows what goes on in the BSB studios. :-)

"Her philosophy is you've already done it, so you might as well own it and make some money out of it," Jason says.

Mmmmm. Smart gal. LOL! Jason will be making some money today by anally taking Johnny Forza's dong. Hard to believe these two studs have never been on screen together. What were we waiting for? :-)

The pros get out of their clothes and Jason sucks dick first. Which is only fair considering his skills at the job. He puts Johnny in his mouth, licking the balls and slobbering over the head. The Garden State stud moans and groans from all of Jason's oral attention.

Jason even deep throats the meat, filling his throat up. The expert doesn't gag, nor whine when Johnny grabs his head and face fucks him. Jason even fingers his own hole as he sucks. He such a performer! And look how sexy he looks when he stares up at Johnny. Dude deserves a wet sloppy kiss!

"You ready to ride this cock," Johnny asks.

We all know the answer. LOL! Johnny puts on a condom and Jason straddles the meat. When it first break the seal, Jason can't help but grimace. But after a few minutes, he's playing pogo stick. Going up and down. And look how his own tool strains from all the stimulation.

"Fuck that cock," Johnny orders.

Jason is being an assertive bottom boy, taking what he wants. Johnny just needs to hold on for the ride. Jason gets on his stomach, and Johnny gets back in that tight hole. The shock makes Jason to grab on the couch.

"Oh, fuck," Jason whimpers. "Oh, yeah Johnny."

Johnny is going balls deep, parting Jason's tan cheeks the way they were made to.

"Oh, pound me," Jason pleads.

He pushes his fine booty against Johnny's manhood, getting as much sausage as possible. With a smack on a butt cheek, Jason flips on his back.

"Fuck, yeah Johnny," he says.

Jason's toes curl and his tool stays rigid as he gets drilled.

"Give it to me, Johnny," Jason orders.

You can only hammer away for so long until there is an explosion. Jason's man milk shoots out, landing on his face, chest and mouth. Johnny pulls put and strokes his load, which coats the hair around Jason's member.

"Your new girlfriend is making you a much better bottom," Clay observes.

Do you agree? LOL!