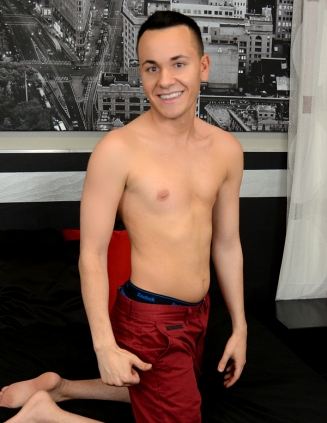 When you pray to the old and new gods, thank them for casinos. They are the reason Kyle Johnson is in our studio today. First he blames his cash flow problems on school.

"College is very expensive," Kyle says to the cameraman. "I can't afford it."

He is right about college studies, especially for a pre-med student, being crazy high, but here is the "real problem."

"Also kind off addicted to the casino. I won't lie. I love the casino. I kind of lost my money, tuition, while at the casino," Kyle confesses.

He promises his BSB earnings will go the tuition, but look at the gleam in his eye. The cutie will be at the blackjack table the minute after the cash is in his hand. LOL!

Kyle just broke up with his gal. She accuses him of being a flirt, which is easy to see. You know he's used that smile to get out of some trouble before. LOL!

Kyle strips and tells a story of the first time he jacked off. He was watching porn at a friend's house. As he tells the story, Kyle's knob gets hard. Someone is excited! LOL

When he begins to jerk it, Kyle's hand speed is super fast. He reaches for the lube, and that monster gets super fat. Maybe his girl let him go because she couldn't handle all that meat. LOL!

Kyle tweaks a nipple. For the record those sweet things need to be nibbled. He gets on the bed and we get a peek of his man hole. One of his fingers slips in, and he curses. He puts two fingers in and moans like
a virgin bottom. This lad needs to be busted by a big old dick!

As he fingers himself, Kyle's johnson gets bigger.

"Should I go for three," Kyle asks the cameraman.

The cameraman chuckles at Kyle's slutty ways, but gives the OK. The newbie's moans get louder as he stuffs that man cunt up with three fingers.

Kyle reaches over for more lube. Puts some on his nipples and meat. Has a newbie ever payed this much attention to his chest before?

The hot stud can't hold back any longer. He shimmies and shakes as man milk lands all over his torso. Even licks some of it off a finger.

So? A keeper?