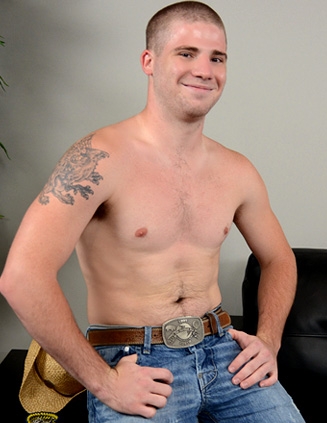 Meet newbie Griffin Matthews. The cowboy hat is no mere prop. The midwestern lad lives on a
ranch, with horses, cattle and pigs. As to be expected, he has a thing for outdoor fun.

"I like hunting and fishing, most of the time," Griffin says to the cameraman.

White tail deer and catfish are his favorite animals to bag. Sorry, guys. Griffin is taken. :-) His lady
friend knows the deal is, but seems OK with it.

"She's excited," Griffin notes. "She wants to see the videos."

As he talks, Griffin strips. Everything about this lad is big and beefy, from his midsection to those
heavy balls. He has fooled around with guys before, but "loves women to death." That's fine here in
the land of BSB! LOL!

He plays with himself, with his undies still on. He's not a shy newbie, which makes him sexier. That
tool quickly pops a tent in his shorts. He whips it out and jerks. His breathing starts to get labored.
Our cowboy is horned up and ready to play!

Finally, Griffin gets naked. He grabs that manly chest as he strokes his big slice of sausage. He takes
a seat and looks in the camera for a quick second. Such a cute horn dog.

Griffin only knows one jerk off speed. Fast! LOL! He keeps his hand on that phat head of his. When
asked to show his buttonhole, we get a shy grin. Those hairy thighs pull up and Griffin gives a perfect
view of his man pussy. Even sucks a finger so he can push his joy button. This boy knows how to
please! LOL! His man meat gets harder as he plays with the tight opening. Griffin can make his own
toes curl with pleasure. LOL!

Griffin now gives his johnson his full attention. He tugs at his cum heavy balls. When told to bust a
nut, Griffin offers a sexy grin. His jerking speed increases and those thighs shake with desire. When
he shoots, cum lands on the top of his chest. Dude almost gave himself a facial!

"It will shoot like a rocket, man," Griffin describes his orgasm.

How many rockets have you shot off after watching this?