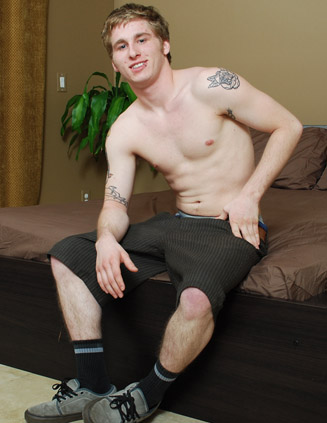 The latest hottie in the studio is Liam Corolla, who, like all Broke Straight Boys, is in desperate need of some quick and easy cash.
This eighteen year old stands at 5' 7" and weighs in around 130 pounds. His dick is a nice seven inches long and despite never
being in front of a camera before, Liam exudes a natural confidence. Taking off his t-shirt, Liam revealed tattoos on both arms; a
large 'respect' on the underside of his left arm and a tattooed lady on his right arm. Liam removed his shoes and socks, joking
about how he needed to buy some new socks with the money he would be making for his solo session. His shorts quickly hit the
floor, leaving Liam standing in a pair of blue boxers. At my request, Liam leisurely played with his cock and balls through the soft
material of his boxers as he described jerking off for the first time when he was in 4th Grade. Turning around, he pulled down his
undies and showed off his nicely shaped ass to the camera. Facing forwards again, Liam pulled his underwear down to his knees,
displaying a long cock and a pair of well hung balls.

Underwear completely taken off and discarded on the floor, Liam settled against the head board of the bed. Wrapping a hand
around his cock, Liam slowly jerked himself off as he worked on getting his dick hard. Like a lot of new boys, Liam couldn't help but
glance every now and again towards the camera, however, it was more curiosity than any shyness. Once Liam had a cock that was
pointing towards the ceiling, he gently caressed his balls with his fingertips. A minute or two later, he shifted up onto his knees, his
hand never pausing as it slid up and down his thick cock shaft. Liam threw in a couple of classic model poses as the camera panned
around his slim body but he quickly returned his attention to the task at hand. As he stroked himself faster and faster, Liam lightly
brushed his fingertips over his chest and nipple before reaching back down and massaging his balls.

Now that Liam was warmed up and in the zone, I got him to turn around and show off his ass. Once he was facing the wall, Liam
pushed his ass out even as he kept jerking himself off. As he wanked off, Liam admitted that he had never had anything up his butt
before, however, he didn't look like he minded the idea of going down that path later on. A moment later, I asked Liam to push his
dick back through his legs but it was easier said than done as Liam's cock was so hard, it was a difficult move for him. Still, the pose
did allow for a great close up of his virgin hole once Liam had managed to shove his dick through his legs. A couple of pumps and
Liam flipped over onto his back again as he came towards the home stretch. With a firm grasp on his dick, Liam put in some hard
wrist action as he got closer and closer towards showing off his cum shot.

His hand flying up and down his shaft, Liam was panting with excitement as he teetered on the edge of orgasm. All of a sudden,
without warning, cum shot high into the air before splattering down over Liam's dick and balls, the cum liberally coating his fingers
and hand. As promised, it was a huge load, so much so, even Liam seemed surprised by the sheer amount of it.