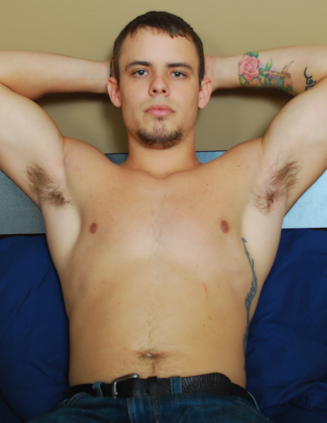 The new boy in the studio today has a look of familiarity about him and there is no doubt that a
good number of the Broke Straight Boys members will liken him to an old favorite, Diesal. However,
Denver will be making a name for himself without any problems. This confident young man is in the
studio in order to jerk off for the camera, earning some quick dosh so that he can continue to
compete in one of the sports he loves. When he isn't jerking off, he plays a wide variety of styles
on his guitar. Denver says he is straight and that he loves a good round ass on a girl. Even though
he says he is a little nervous, Denver is more confidant than most boys when they appear in the
studio for the first time.

Denver stood up, peeling off his t-shirt and revealing a muscular, solid build decorated with a few
tattoos. His jeans and grey boxers hit the floor next, leaving Denver naked. Turning around, Denver
showed off his ass towards the camera, giving one ass cheek a hard slap. Climbing up onto the bed,
he pumped a couple of squirts of lube into his hand before massaging it into his cock.
Leisurely stroking his hand up and down his stiffening shaft, Denver rose up onto his knees. Only a
minute or two later, Denver's dick was hard enough to crack concrete. His hand flying up and down
his long shaft, Denver couldn't help but touch himself here and there as he got more and more turned
on. Concentrating on giving a good performance, Denver ignored the camera as he rolled his balls in
one hand. At my request, Denver lay down on his stomach, pushing his cock between his legs so could
still play with his hard on.

Gripping the edge of the mattress, Denver gently rubbed his dick up and down the bed sheet as he
fucked the mattress. It was easy to see that Denver was getting more and more turned on thanks to
the friction of the cotton against his cock. Reaching down between his legs, Denver started putting
in some hard wrist action, however, quickly turned around the other way at my suggestion
so that there was a good view of his dick between his legs. Pulling one ass cheek slightly apart,
Denver kept humping the bed in long, slow thrusts. A moment later, he used both hands to show off
his virgin ass hole even as his hips rolled up and down. By now, Denver had managed to work up a
sweat due to all his hard work. Staring at the camera, with a slightly cheeky expression on his
face, Denver started to tug on his cock again.

It was obvious he was getting closer to cumming as he suddenly rolled over again and with a couple
of squirts of lube, Denver jerked himself off with a vengeance. His knees up and wide apart, Denver
daringly touched himself gently on his ass hole for a brief couple of seconds before resting his
hand behind the back of his head. His hand flying up and down his rock hard shaft, it wasn't
going to be long before Denver showed off his cum shot. Sure enough, with Denver panting hard and
moaning in delight, he shot over his stomach, the cum dribbling down his shaft and into his thick
pubes. From the smile on Denver's face, there is no doubt that he will be back in the studio extra
soon!