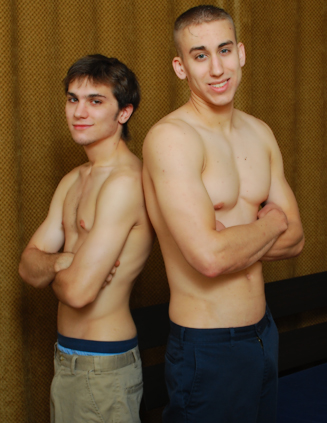 Super hot but shy AJ is back, along with Rocco. Today, AJ is going to be fucked for the first by a guy on camera. Luckily, Rocco is on hand to see that things go along nicely. Obviously, AJ is quite nervous but he is willing to give things a go and see how they pan out. The boys were raring to get down to the nitty gritty so they stood up and stripped off naked. Before he sat down again, I had AJ show off his virgin ass, Rocco giving a butt cheek a hearty slap. Like the majority of boys on Broke Straight Boys, it didn't take long for AJ and Rocco to get rock hard and since he was an old hand at being in front of the camera, Rocco decided he would go first.

Grasping AJ's thick cock shaft, Rocco leaned over and slid the dick between his lips. Showing off his vast repertoire of dick sucking skills, Rocco bobbed up and down on the long cock. As Rocco gave him a blowjob of a lifetime, AJ just leaned back and relaxed, enjoying the feel of a hot, wet mouth surrounding his cock. Soon enough, it was AJ's turn to give head and with only a brief moment of hesitation, AJ sucked on the very tip of Rocco's dick, all the while, he jerked himself off. While AJ was still new at giving head, Rocco was more than happy with how AJ was doing, even going so far as to gently push down on the back of his head in order to hint for AJ to go down further. AJ even got daring; licking up and down the hard shaft every now and again.

Despite his nerves, AJ was ready to take cock for the first time, so, down on his hands and knees on the bed, he waited somewhat anxiously for Rocco to start fucking him. Standing behind AJ, Rocco gently worked his dick into AJ's virgin ass. Right away, it was obvious that AJ was in some discomfort but Rocco made sure to allow AJ to adjust to the feel of a cock in his ass. AJ was feeling every inch of Rocco's dick, groaning on each thrust. When he realised he was moaning so loudly, AJ was embarrassed enough to press his face into the mattress in order to muffle the sound. By now, Rocco was able to go a little harder and faster, making AJ look over his shoulder and watch Rocco in action.

Switching things around, AJ decided it was time to ride Rocco's cock. With Rocco laying down on the bed, AJ slowly sat down on the thick cock until it was all the way up his ass. Gripping onto Rocco's thighs for leverage, AJ raised himself up and down, fucking himself with Rocco's dick. By now, both boys were panting hard as they worked up a sweat. AJ rocked himself back and forth, all the while, Rocco whimpered in pleasure. Taking control, Rocco raised his knees and thrust up hard into AJ's straight boy ass while AJ just braced himself on the mattress and took it like a trooper. AJ flipped over onto his back, legs spread wide as Rocco slid his dick back home on the first thrust. Dick in hand, AJ jerked himself off as Rocco rode his ass hard. There was no doubt that AJ was feeling every inch of Rocco slide in and out of his ass but AJ kept working on his dick. It was just all too much for AJ and he found that he was unable to keep a hard on even though he did his best. Rocco pulled out, too close to cumming to continue fucking AJ. Jerking himself off with hard, fast motions, Rocco sprinkled cum over AJ's dick and balls.