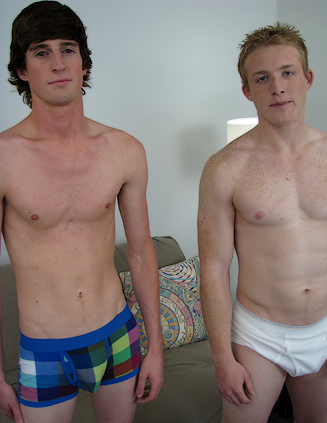 Broke Straight Boys is very pleased to welcome back Jayce while also introducing a newbie, Charlie who is 20 years old and from Miami Beach in Florida. Both boys are in the studio to earn some extra money; Jayce needs some dosh to be able to move house while Charlie is going to use his money to pay some overdue bills. While Jayce has already been in a couple of BSB shoots, strawberry-blonde Charlie is brand new to the world of gay porn and is understandably nervous and although, he is straight and has a girlfriend, he is prepared to keep an open mind.

I originally told Charlie that he would be only doing a solo shoot first off but as I also had Jayce in the studio I decided that I would throw them in together and see what would happen. As such, I asked Charlie if he wanted to earn extra money by doing an oral scene with Jayce, however, it was obvious my idea had shocked him as he didn't really know what to say. I told Charlie that if he did oral with Jayce, I could pay him $600 but Charlie wasn't comfortable with that so the three of us settled on them both jerking off next to each other for $300 each.

As he was the new guy, Charlie stood up and stripped off his t-shirt, revealing a muscular and toned upper body complete with a full six pack. As he took off his size 12 shoes, Charlie's said that he was 6 foot tall and weighed around 200 pounds. Taking off his shorts, Charlie turned his ass to the camera and pulled down his undies, showing off his well rounded buttocks. Sitting back down on the futon, it was Jayce's turn to undress. Jayce took off his t-shirt and jeans, his lean surfer boy look a direct contrast to Charlie's jock build before sitting down again. Both boys watched the porn as it played, busily kneading their cocks, their underwear hitting the floor a minute or two later.

Even though he was out of his comfort zone, Charlie got hard pretty quickly so I got him to stand up to give the BSB members a better look, however, his dick was so nice, I couldn't help but reach out and touch it myself. As he sat down, I told Charlie to grab hold of Jayce's dick. Charlie was somewhat astounded by what I had said but nonetheless, with great hesitation, took Jayce's hard cock in hand and slowly rotated it. I told Jayce to do the same for Charlie, Jayce reaching out and gently wanking Charlie's dick. Right away, it was easy to tell that Jayce wasn't bothered at all by touching another guys cock while Charlie was doing his best but was most ill at ease. Unfortunately, Charlie had to regain control of his cock as he went soft.

Both boys watched the porn, wanking themselves with hard and fast tugs, Charlie breaking off for a moment to put a dollop of lube on his cock before continuing even as Jayce did the same. Jayce's favourite thing to do was to wrap both his hands around his cock shaft and do a 'double wank' while Charlie's was to cup his balls in one hand as he put in some hard wrist action. It wasn't long before Jayce whispered he was ready, cum spurting over his chest and stomach. A few minutes later, Charlie sprayed cum onto his chest before it dribbled down his shaft and into his pubes.

Both boys did a great job, especially Charlie for his first time in front of a camera. I asked him if he wanted to come back to make more money and Charlie said he would think about it so make sure you watch out for him in the updates.