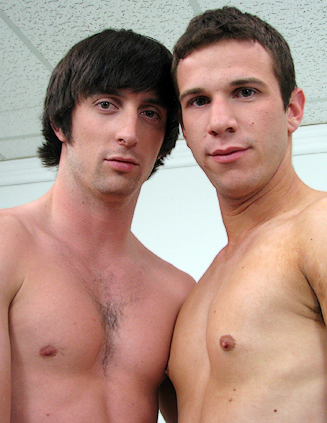 Ken and Jeremy are back in the studio today to do an anal scene as a follow up to their previous oral workout. As we got right down to business discussing how much they thought the shoot would be worth, I asked Jeremy and Ken if they would consider kissing for $1200 each? I was pleasantly surprised when Jeremy said he would give it a go even as Ken nodded enthusiastically beside him. Without any preamble, Ken dived in towards Jeremy and took control by passionately kissing him. Never one to back down, Jeremy gave as good as he got.

They stripped off each others t-shirts and threw them on the floor before they immediately resumed some heated snogging. Pushing Ken back onto the futon, Jeremy licked and nibbled at Ken's chest and nipple and a moment later, Ken did the same to Jeremy, only to discover that Jeremy was ticklish and it made him squirm and giggle. Going in for another kiss, Ken stuck his hand down the front of Jeremy's shorts and started playing with his cock while Jeremy mirrored him. Only a minute into it, Jeremy and Ken stood up, stripping all the way naked. On his knees in front of Ken, Jeremy sucked down Ken's half hard cock, Ken moaning at the feel of a hot, wet mouth around his dick.

In an aggressive move, Ken almost threw Jeremy onto the futon and swallowed his cock enthusiastically even as he jerked himself off. Matching Ken's aggression, Jeremy shoved Ken's head down, forcing Ken to deep throat his hardening dick. Ken proved he was a pro at sucking cock as he took Jeremy's rough face fucking in his stride, even when Jeremy made him to choke on the cock in his mouth. Switching it up, they pulled out the futon, Ken laying down while Jeremy knelt above him and giving head once more. It was payback time for Ken as he shoved Jeremy's head down so that Jeremy had no choice but to take Ken's dick down his throat. Ken told Jeremy how he liked it, so Jeremy obliged by wrapping a tight hand around the cock shaft and pumping it while sucking on just the head, making Ken moan like a bitch.

It was getting so heated between them, that when Ken tried to sit up for a kiss, Jeremy shoved him right back down and kept sucking cock. All of a sudden, Jeremy pulled off and grabbed the lube bottle, slicking up his ass while Ken wanked himself off. Jeremy helped him out a little, sucking down his cock while Ken unwrapped the condom. Once the condom was on and Ken was lubed up, Jeremy moved into position and slowly sat down on Ken's dick. Right away, Ken was rough and ready with Jeremy's ass, his hips thrusting like a jackhammer as he fucked Jeremy. Jeremy rode Ken's cock like a pro, upping the rough edge of the shoot by wrapping a hand around Ken's throat and choking him. The fucking was hard and heavy, both boys moaning and panting as Jeremy moved up and down on Ken's dick.

Without a word, Jeremy hopped off and got onto his hands and knees, Ken sliding his dick back into Jeremy's ass not even a moment later. Ken set a hard and brutal pace, fucking Jeremy's ass without mercy, both boys grabbing and slapping at each other as they got carried away with the fucking. Jeremy's ass was being so brutally pounded, he had to grab onto the side table for support. Suddenly, Ken pulled out and flipped over onto his back even as Jeremy started to wank himself into full hardness so he could return the favour to Ken. In a matter of minutes, Jeremy was rock hard, prepped and sliding into Ken's tight ass. With Ken demanding that Jeremy "fuck that ass", Jeremy gave it to Ken just as hard as Ken had given it to him.

Bending Ken almost double, Jeremy rode Ken's ass without mercy, making Ken moan and beg for more with each hard thrust. As Jeremy pinched at Ken's nipples, Ken announced he was about to cum, shooting like a geyser into the air before it dribbled down his shaft and into his pubes. Instead of pulling out, Jeremy kept fucking Ken in hard and fast jabs. Jeremy was so into fucking, he leaned in low as if he was fucking a woman, all the while, Ken was begging him to keep going. All too soon, Jeremy pulled out, tore off the condom and jerked off, cum splashing over Ken's stomach and chest. Sealing the deed with some passionate kissing, the boys hopped up and get ready to get cleaned up.