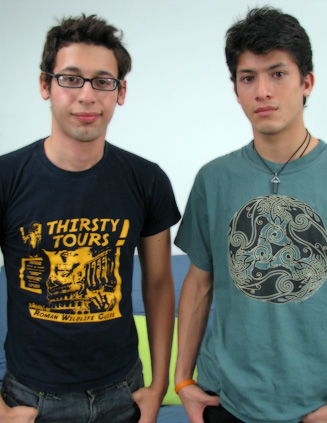 Today at Broke Straight Boys, we welcome back Nelson and Gino. Nelson has done some shoots with us in the past but hasn't been back to the studio in a year so it's nice to see him back while Gino is one of our newer models. I explained that one of our members, Slimvintage, was a huge fan of Nelson and that this was a shout out to him. Today's scene was going to be one of our rare Broke Gay Boy's shoots as Nelson was gay while Gino was bi and both boys were desperately broke. Gino works as a massage therapist and pizza delivery boy while Nelson had just been fired from his job and needed money for school.
I told the boys that this was going to be an oral scene and that I would pay them $500 each, I also asked them to do a bit of kissing as I knew that they would both be comfortable with it and kissing is something that our BSB members like to see. Right away, Gino leaned in towards Nelson and they started kissing, their hands exploring each other's bodies. It wasn't long before Gino was rubbing at Nelson's cock through his jeans, Nelson doing the same to Gino, both boys breathing heavily as they got right into it. They took off their t-shirts before continuing to kiss, Nelson licking Gino's chest a few times before unbuckling Gino's belt and sliding down his jeans. Nelson started mouthing at Gino's cock through his grey boxers while Gino had a firm grip on Nelson's hair. Boxer's taken off, Nelson sucked on Gino's dick, deep throating him as he pushed down his own jeans and underwear. Gino sat on the futon, Nelson kneeling between his knees, relaxing as he got a blowjob from a pro.
They switched to Gino swallowing Nelson's cock, Nelson forcing Gino to deep throat with a heavy hand on the back of Gino's head, jerking Gino off at the same time. Nelson wanted another turn at Gino's dick, begging for more as Gino face fucked him. Pulling out the futon, Nelson crouched down low as he continued to suck on Gino's cock while Gino just sat back and enjoyed it. It was time for Gino to get face fucked, gagging a little as the hard cock went down his throat, Nelson panting hard. Nelson directed Gino into a 69, both boys in heaven as they sucked and got sucked, Nelson preferring to rim Gino's ass as Gino moaned in pleasure. They went back to Nelson fucking Gino's face, Gino's gagging only encouraging Nelson to piston his hips faster and harder. With his cock still buried deep in Gino's mouth, Nelson managed to turn all the way around and into another 69, swallowing down Gino's dick.
Getting caught up in the moment, Nelson decided that even though the shoot was supposed to be purely oral, he wanted to ride Gino's cock for a few minutes, taking matters into his own hands by rolling a condom on Gino, then lubing up both himself and Gino. Nelson sat himself down on Gino's big dick, rising up and down as he stroked himself off while Gino was obviously enjoying the feel of a tight ass around his cock. It was clear that Gino was close to cumming, so Nelson slid off and lay next to Gino, his face in the direct line of fire as Gino jerked himself off. Cum shot all over Nelson's face and even flew into his mouth, Nelson licking his lips to gather up every last drop before sucking up the rest from Gino's cock. Only a moment later, Nelson was spurting his cum over his stomach before turning and squeezing the last few drops over Gino's cock and pubes.
These two boys did a great shoot, even throwing in a few surprises, and I can't wait to see what they do for their anal scene!