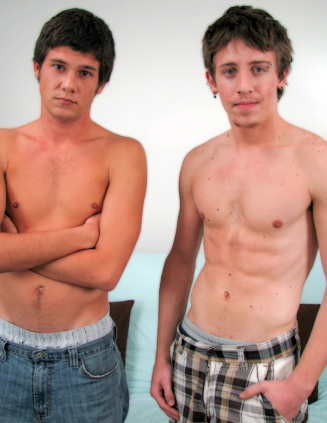 John's first time doing anal Today at Broke Straight Boys, we bring back John and Leon. They have both been in an oral scene together and I figure it was time for them to do anal. I was hoping that John would be the one to bottom in this scene and I did make him an offer but he wanted to try topping first, so once again, Leon was bottoming. While John doesn't like doing oral, that much was obvious from his struggles in his last shoot, he's a model who will do his best once he's committed to something. It's always good to see models breakout of their comfort zone, especially someone as fresh as John, and it's even better when they are able to keep an open mind about what goes on in the studios at BSB. With the money decided, $800 for John and $1000 for Leon, it was time for the boys to start getting ready.
The guys stripped right down as I told them that I was going to let the shoot develop at it's own pace. With the straight porn playing, Leon leant over and started sucking on John's cock, John sitting back and relaxing as his dick hardened. John's cock was rigid after barely two minutes of Leon working on it, proving that Leon has picked up some great oral skills from his previous shoots. John couldn't help but peek down at Leon every now and again, watching Leon's head bob up and down. Leon got hard pretty quickly as he sucked on John's large cock, John tugging on Leon's dick to keep him hard. After a bit, I had John return the favour. He sucked the tip of Leon's dick into his straight boy mouth, Leon wrapping a hand around John's cock as he started moaning in pleasure almost immediately. Despite claiming not to like giving head, John was doing pretty well for his second attempt at it. Leon was enjoying it so much, he told John to grip him tighter. Leon then switched back to sucking on John, massaging his balls as he twisted his hand around the hard shaft.
The boys started out in doggie style, John having a tough time getting into Leon's tight ass. At first, John went slow as to not hurt Leon and to get used to fucking another guy himself, Leon feeling a bit of discomfort as he adjusted to the size of John's cock. Soon though, John was right into it, fucking Leon's straight boy ass at a steady pace as Leon was moaning for more. John flipped Leon onto his back, and it was really hot to see John's cock slide in and out of that tight ass. You could see that John was really starting to enjoy fucking Leon, switching up the pace every few minutes while Leon just took it, his cock hard which meant he was enjoying it as well. John is a quick shooter so I watched his facial expressions for the hint he was about to cum and sure enough, he pulled out his dick and with a few strokes, came all over Leon's face and upper body, some cum even landing on Leon's cock. It didn't take Leon long to also shoot his load, his cum spraying the futon before dribbling down his hand.
The boys did a great shoot, especially John, and as he is going to consider the $1500 I offered him to bottom, I hope that he comes back to BSB in the near future.