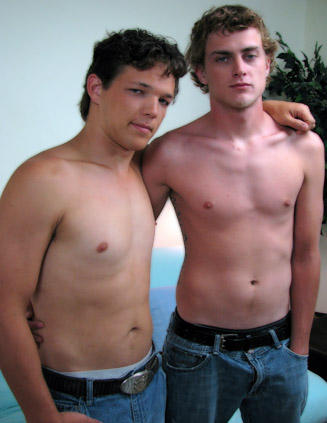 Both Lee and Shane have been in shoots together before, and I had hopes that if I got them in the room to do anal one would cave at the chance to make some really good money for bottoming. Both guys are straight, and have placed limits on the things that they will do in the studio. Lee has only been with us for a few shoots so he hasn't relaxed enough to try sucking cock yet, he just will receive oral from a guy and top. Shane on the other hand wants to keep coming back for the money, so he will do more. I found out that the guys were both past due on their bills by about a month, almost two and needed to come up with enough money to try and get caught back up and maybe even get ahead. For both guys this would be one of their first chance at bottoming ever, so neither one was too enthusiastic about the chance. Putting $1500 on the table for the boy that would bottom, and the guy that tops would make $1000 I left the decision up to them.

Shane was the first one that I approached about bottoming and he at least started to think about it. I asked Lee if he would consider doing it and he said no. Shane spoke up asking if he could get $2000 for doing it, and I agreed to the terms. With the roles decided, the guys stood up and stripped off their shirts. Shane had a bunch of tattoos, a lean body, smooth skin, and a good tan over most of his body. Lee on the other hand had more of a jock build with more muscle, a bubble butt, and hair that reminded me of the 80's. Both guys are very hot, and so they waited in their jeans for my instructions for those to hit the floor too. With only their boxers on, they took a seat back on the couch while I turned to put some porn on. Reaching inside their shorts they started to work on getting hard and what was great was that these two weren't bothered by nerves. Boys with boners, I had them stand to show off what they got, and for the most part the two of them had the same shape and size dicks. I asked Shane if he wouldn't mind giving oral to make sure that Lee was as hard as possible.

Shane our bad boy with tats leaned over and started by licking the tip of Lee's cock with his tongue, making sure to use the tongue ring that he had in. He then put the whole dick in his mouth and started to move up and down with his mouth. Shane has realized how to give good head, knowing all the different things that he likes to receive. So, he repeated those things with Lee, one being jerking and sucking at the same time. Once in a while he would pause and just do some licking and when it was a good moment, I asked the two of them if they were ready to start the fucking. Lee said that he was, and Shane said that he would be as ready as he ever would be. The guys got the room and themselves ready, and Shane assumed the position on the bed. Bracing himself over a pillow, Shane prepared himself for what was about to come. I warned him that getting it in was the toughest part, after that it gets easier as he relaxes. Shane made a lot more noise and vocals while being fucked, and I liked his reactions. At one point he even told Lee not to go as deep as he was, so he was interacting a little more than he normally would. Lee slowed back down and the two of them kept going.

To get one more position out of them I had Shane flip over onto his back, and I told Shane that he got one of the harder positions out of the way. Now, all he had to do was just lie there and take it. Lee was able to get his dick right back in there and fucked Shane until Shane made Lee slow back down. One thing was for sure, Shane so far hadn't freaked out or wanted to quit so that was a good sign. His breathing was deep and he tried to relax, and at one point I told him to start stroking his dick to get hard and shoot his load. Lee was able to stay hard, and was completely turned on by how tight Shane's virgin ass was. While Lee fucked he kept his eyes on the porn every once in a while to keep in his fantasy, and the rhythm seemed to pick up. That's when Lee let out a warning that he was about to cum, he quickly pulled out and came right on Shane's stomach. After that, both boys were kind of out of breath, and I complimented them on a job well done. Then, I asked Shane if he would be able to pump one out for us, and he said yes after just a short two minute break. All he did was lie there, and he watched the porn, and I ran to grab a towel. When I came back into the room Shane's monster dick was back to being hard, and he was close to shooting his load. The cum dripped down the side of his fat cock, and Lee rubbed Shane's legs as he had the orgasm. Shane said not to expect to see him bottom again, but I will see about asking again after he has some time to think about it, who knows maybe we can get Lee to be next.