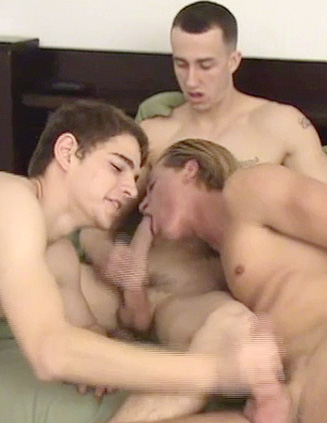 Three hot boys are in the studio, Sean and Criss returning again, but Dallas is the newbie of the group. Criss has a humongous cock at 21-years-old from California. Sean is 19 from Chicago and Dallas is 23 years old Texan and here for the first time. The boys strip down all at once, and reveal thier sexy, young bodies. Hairless and muscular, Criss gets on the bed with his huge dick already half-cocked.
Criss makes a motion to invite Dallas over the the bed. But more so to get him over to suck his cock. Dallas stars putting his mouth all over the thick tip and shaft. Sean sits on the bed beside them, touching himself before turning his head and taking in Criss's cock, too. Criss gets underneath them and begins licking the balls as they dangle in his face, with each movement of Sean bobbing his mouth on Criss's cock.
Dallas plays with his hard cock as he takes another cock into his mouth before the boys end up on the floor and take turns sucking on the big dick. At times, they share. Others they are selfishly gobbling up the whole cock by themselves. Occasionally, Sean licks the balls softly, before filling his lips again with cock.
They take turns as if smoking a big cigar. Enjoying every inhale and then passing it off to the next lucky hole. Criss mixes it up again by returning to the bed and letting Dallas slide his tongue over his cock again. Sean leans over and starts sucking Dallas's cock to make a lovely chain of manly flesh, making Criss explode.
Two muscular hands resting one on each shoulder, Criss holds down both men while they rub themselves and watch a sexy video off screen. He holds onto them until each releases their hot cream onto themselves in beautiful white fountains of cum.