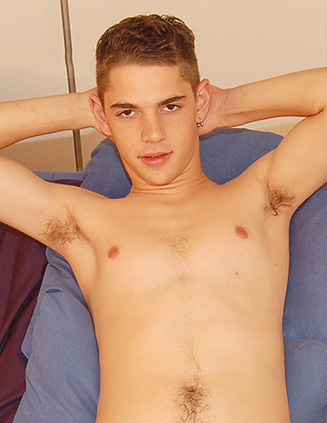 It's Sean Knight's first time at the studio and he came by to show members what he's got. And to prove that he has the goods to earn a paycheck. This young, Chicago native loves BMX and kite surfing, alongside skating and the other outdoor activities that lead to hot muscles.
He's only 19 years old and moved to Florida for the weather, members learn as he removes his jeans and his shirt. He gets comfortable, watching the porn video off screen and removing his underwear to reveal the big, young cock that lay underneath them. His big balls dangle and jerk when he takes hold of his nice dick.
The blue couch is comfortable, he focuses in on the porn playing for only him. His eyes close softly every once in awhile when he grips his own cock in that perfect way. No lube required for this expert who has likely jerked off countless times before. As he gets closer and closer to the apex of his time in the studio, Sean gets more comfortable, stealing sultry looks at the camera before returning his gaze to the naked women on the screen.
Sean is straight and broke, and is willing to earn money with his good looks and amazing body. His cock is massive, filling his palm with its girth. Sitting up greater and leaning against the chaise lounge, Sean shows off his best assets. The best asset of all, however, is the way the hot young thing shoots his cum after playing with himself.