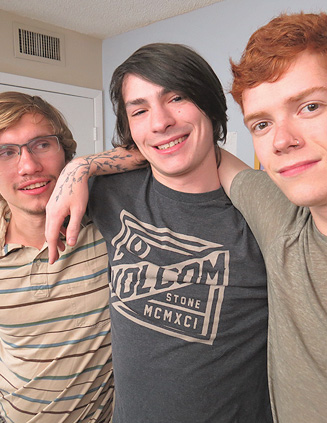 Liam and Connor begin as a duo, making out on the red sheets, half-naked and steaming up the room with anticipation. Liam's mouth travels down Connor's body, reaching his hard cock and making him moan in pleasure.
Darron enters stage right, asking to join in on the festivities, and being welcomed by both Connor and Liam. Joining Liam in the cock-sucking activity, Darron uses his tongue to massage Connor's hard cock, while Liam licks his base and balls. The two even take turns attempting to deep throat his thick rod to best each other.
Once his shorts hit the floor, Liam is ready for Darron to show off some true cock-sucking skills. He positions himself on his knees side-by-side with Connor, their cocks erect and joining for Darron to take both into his mouth at the same time. Darron continues as the center of attention, laying back against the pillows, caressed by the tips of Liam and Connor's fingers. Then by their tongues. Liam's spit drenches Darron's cock, sucked up by Connor's mouth.
Darron positions himself to his knees, bending with Liam's cock in his mouth, and Connor's tongue in his asshole. "Ready to get that ass fucked?" top-dominating Connor asks, but not as a real question.
"I think he is," Liam decides, just as Connor's cock slides into Darron's ass. His moans are stifled by Liam's cock still stuck in his throat. Connor pounds heavily into him. Darron breathes even louder when Liam and Connor give each other high fives suspended over his bareback.
"Now it's your turn," Connor dictates as he pulls his hard cock out of Darron's ass and slides it into Liam's. There he is. Taking the spit-roast position, Liam's mouth is full of Darron's thick cock and his ass if full of Connor's experienced erection. On his back now, Liam's ass is full of Darron's cock as Connor sits on his face, his tongue playing against Connor's balls. Darron and Connor kiss, enjoying their spoils together, tasting the lingering of each other's cocks on thier breath.
Breathing more heavily, Darron's teeth clench as he pounds Liam harder, waiting to cum into him. Connor tugs at his cock positioned over Liam's face, getting close. The three moan and breath indistinctly from one-another. Only until cum squirts from Connor's cock onto Liam's neck can one tell it's Connor's turn to cum first. Darron follows, pounding Liam's ass hard before announcing his orgasm and cumming onto Liam's cock. He sticks his not-yet-satisfied cock back into Liam's hole. The sensation pushes Liam over the edge as he completes the hat trick - bursting onto himself in satisfaction.
⬇PLEASE COMMENT ON THIS SCENE ON THE BOTTOM OF THE PAGE. ⬇