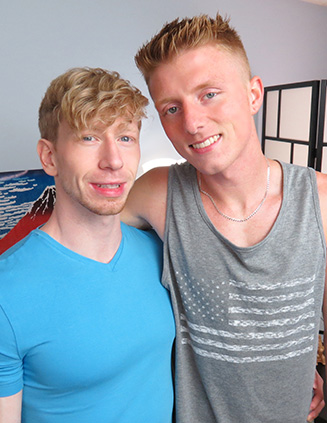 From the start, these two guys were really into each other. They kiss on the bed, acting upon the chemistry that they feel. Richie admires Jesse's ripped body, and kisses all over it until he reaches Jesse's dick. He puts his dick in his mouth, and Jesse loves it. Richie continues to go deeper on Jesse's cock, while Jesse looks down at him. They switch places, and Jesse gets on his knees to give Richie a nice blowjob. Richie remains satisfied.
The boys get on their side and Richie puts his cock slowly inside Jesse. Jesse feels pleasure as he takes Richie's nice dick on his side, and moans some more. He rolls to his stomach and Richie continues pounding him from behind, watching Jesse's ass respond to his thrusts. As Jesse gets close, Richie turns him onto his back and fucks him until they both cum hard. They catch their breath while Richie stays on top of Jesse.
Please comment on this scene below.