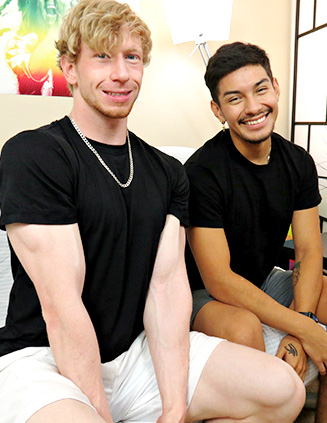 From the time the cameras started rolling, these boys were ready to pounce on each other. After some light kissing, Jesse gets on his knees and puts Gian's dick in his mouth. Gian is learning and watching Jesse deepthroat him, ready to show off his skills next. As they switch places and Gian becomes the one of the floor, Jesse lets him dominate side come out, choking Gian and making him gag.
Jesse then wants to really put his big dick to use by pounding Gian, who is definitely not used to his size. "Oh fuck, you're so tight. Damn" Jesse says as he eases his dick into Gian gently and slowly at first. Gian is grunting hard while he takes Jesse's hard dick, who thrusts faster once he's all the way in.
Gian is convinced to get on his back and open his hole some more for Jesse, who is fucking him just as hard as before. Jesse loves being dominant, and shows it by choking Gian while he fucks him hard. With enough thrusts, Jesse pulls out and strokes his cock until a warm load lands on Gian's chest. Gian cums with him, hitting his lower abs and allowing himself to be drenched in their cum.