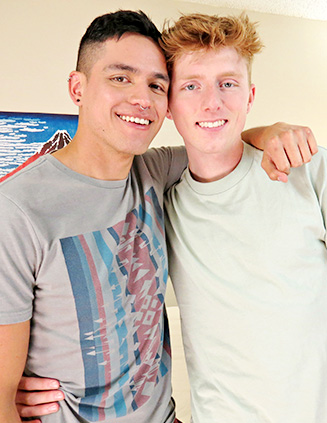 Today, something came over Nico where he craved to assert his dominance like the alpha that he is, and luckily Richie was right there as his beta. Richie starts sucking Nico's dick on the couch, but before long, Nico is towering over him feeding him the dick instead. "You want my dick inside your mouth?" he baits Richie as he jams his large, uncut cock in the boy's mouth. He then pulls Richie's shorts off and begins eating his ass on the couch, running his tongue over Richie's hole.
Richie embraces his submissive nature. "I'm so ready for you to fuck me!" he pleads to Nico as he gets fingered and prepped. Nico slowly eases his cock into Richie, but once it's fully in, he gives it to him hard. Richie's head jerks back and forth while Nico throws his whole body on top of him. They switch to doggy style and Nico owns Richie's soft ass, fucking him hard and pulling his hair.
Nico's chest begins to jerk as he pulls out and shoots a warm load all over Richie's hole, and then onto himself! Then he pulls Richie up from his knees and starts petting and kissing his neck, which causes Richie to release his load all over the couch. Nico showed his dominant side, and Richie loved it.