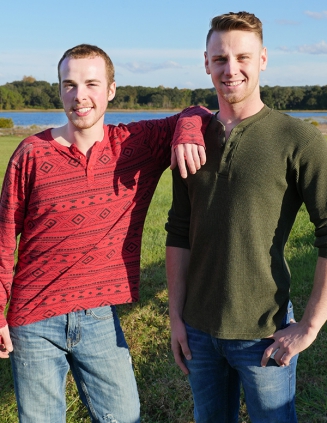 Kaden Porter and Brandon Evans are both pretty new to BSB and are both virgins, meaning they have never had a dick inside their ass. So these guys still have a lot of things they haven't experienced yet…but this scene will help cross a couple items off of that list! Brandon takes the lead, holding Kaden down on the bed as he kisses him and pulls his pants off, then strips his own clothes off and lets Kaden suck his cock.
Brandon straddles Kaden, dangling his dick in Kaden's face and getting head before climbing off and showing Kaden his own oral skills, licking and sucking Kaden's balls and shaft. Brandon gets his ass eaten by Kaden, loving the feeling of Kaden's tongue rimming his tight hole, but once the oral is over Brandon lubes up and slowly slides his hard dick into Kaden's ass, letting him warm up before fucking him harder. Kaden takes Brandon's bareback cock, getting pounded deep as Brandon learns how good a tight ass feels around his throbbing prick.
They flip and Kaden enters Brandon slowly, holding Brandon's legs up as he slides his member in and out and Brandon moans in pain and pleasure as his ass stretches to fit that big cock. Brandon plays with himself as Kaden pounds him raw, stroking his own dick until he comes with Kaden still inside of him, then Kaden pulls out and shoots his own big load!