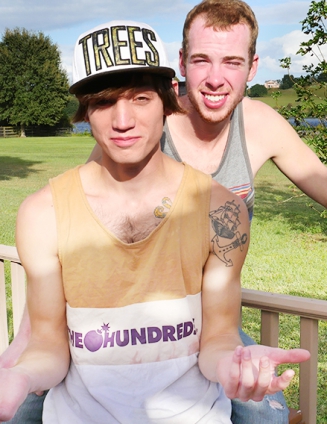 Kyle Porter is excited for his first partner scene on BSB, and Zander Floyd has been around long enough to be sure that newbie Kyle has a damn good time! They get things heated up with some kisses, stripping their clothes off slowly as Zander works his way down to Kyle's eager cock, taking it in his mouth and working that dick until it's hard.
Zander's turn is next and he seems surprised by how good Kyle is with handling a dick as he pulls Zander's cock in and out of his mouth slowly, making sure he feels every pass of his soft lips before they can't wait any longer and have to fuck! Zander gets Kyle on the bed and spreads his ass apart, sliding his cock into Kyle's tight ass and fucking him raw. Kyle spreads his legs farther apart, letting Zander in even deeper as he takes that cock and touches himself, closing his eyes in pleasure as Zander gives it to him!
Kyle moves into a different position, face down on the bed and ass in the air to receive Zander's long, hard shaft, and Zander doesn't hold back as he fucks Kyle and makes his ass bounce as he thrusts his bareback cock in and out of Kyle! When Kyle's ass can't take anymore, Zander pulls out and they both come hard, draining their cocks and sharing a few last kisses.