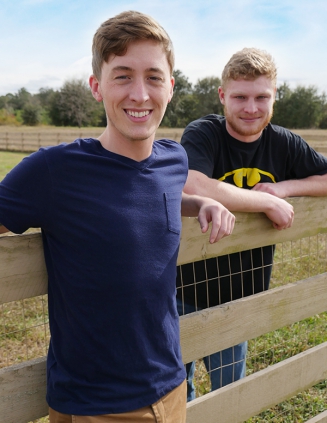 Levi Jackson made it through his solo and now he's back in the studio for his very first guy-on-guy experience, and although he seems a little apprehensive, overall he's calm and ready to see where Danny Cannon takes him! They get intimate with some passionate kissing, making out while Danny places kisses on Levi's chest and reaches down into his pants, teasing Levi's cock between kisses before getting him undressed.
Danny gives Levi head, sucking on his sweet cock while Levi watches him work and learns by example, so that when it's his turn to gives Danny oral he knows what to do. Levi does well considering it's the first time he's ever had a dick in his mouth, and he plays with Danny's ass as he sucks, but when he's had enough practice with cock-sucking, Danny gets on the bed and prepares to take this newbie's dick!
Levi stuffs his cock into Danny's ass, slow at first but once he knows how good it feels he fucks him harder and deeper, pounding Danny while Danny plays with himself and watches Levi slam his bareback cock into him. Danny's tight ass is too much for Levi and he comes hard, but he sticks his dick back inside of Danny and fucks him until Danny jizzes!