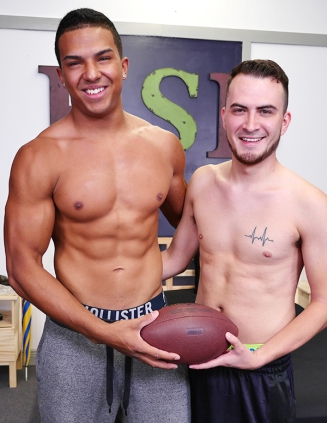 Devon Felix might not be ready to take a dick yet, but David Hardy isn't going to let that stop him as he captures Devon's lips with his own and kisses him hard, making out as they both strip their clothes off. Devon gets his mouth filled with cock first as he goes down on David, sucking that big dick and the letting David taste Devon's cock next!
Devon watches David work his magic…then watches as he buries his face between Devon's ass cheeks and licks Devon's tight hole, running his tongue over that sensitive entrance while Devon jerks his own dick. Devon gets his asshole fingered before it gets fucked raw by David who dominates that tight hole, ramming his cock deep inside, hard and fast, until Devon has to slow him down!
But lucky for Devon, he gets to give it back to David as they flip and David bottoms for Devon, taking Devon's bareback cock all the way up his ass! Devon takes no mercy on David as he fucks, burying his prick inside of David as he slams into him, David jerking his own dick until he drops a huge load onto the bed! Then Devon pulls out and cums onto David's back and David makes sure Devon gets a taste of that jizz!