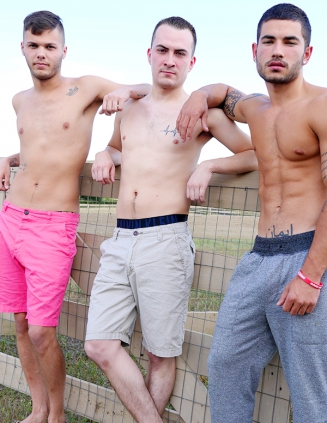 Gage Owens is in for a surprise today, and he'll figure out what that surprise is soon enough! To get him in the mood, Vadim Black and David Hardy kiss his chest and torso, undressing him and using his shirt as a blindfold as Gage has no choice but to let these guys do what they want to him. David and Vadim take turns rimming Gage's ass, sucking his sweet cock and take a break to make out with each other while Gage touches himself.
Gage gets some balls in his face as David kneels above him, putting his cock in Gage's mouth and making him give some oral as Vadim does work on Gage's prick. When Vadim wants his dick sucked they have to take turns with Gage's mouth, each getting their meat sucked by him before the real fun starts! When Gage gets on all fours, David enters him from behind and Vadim takes his mouth, each fucking him from one side as Gage takes those dicks!
But if Gage thought this raw action was a lot, wait until he sees what Vadim and David have in store for him next! Gage straddles David and sits on his cock, and Vadim comes from behind and gets his cock in that ass too as Gage gets his first DP action! Gage gets his ass stretched by David and Vadim and soon they're all shooting their load, covering Gage in hot cum!