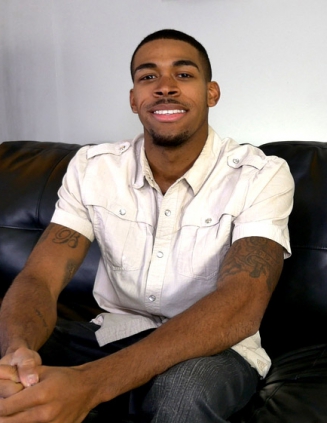 Brice Jones just moved to Colorado from Texas, and Midwestern stud is looking to make some extra spending money so that he can take full advantage of all the new opportunities here. He's come to us to get that extra cash, and we promised to hook him up with that spending money if he's willing to jerk it in a solo scene for the camera. He strips down and tells us a little about his tattoos and his hot body before he drops his pants and shows us his uncut cock.
He takes a seat on the couch, clearly not intimidated by the camera as he lubes up and starts stroking his dick, running his hand along his shaft until he works that cock up to it's full and very impressive size. We get a good look at his thick, long prick when he stands up to masturbate, and the camera pans over his toned, sleek, muscular body and his supple ass as he continues to work his dick.
Then he lies back on the couch and tightens his abs and chest as he starts rubbing his cock faster and faster. He moans a little and his hips start thrusting instinctually until he shoots a hot, creamy load onto his stomach, massaging his dick and enjoying the afterglow of an amazing orgasm!