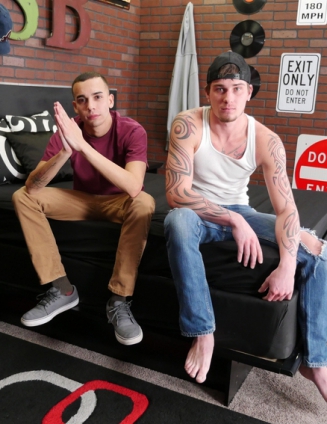 Cage Kafig and Justin Riggs are paired up for this sexy scene, and these studs jump right into it, Justin gives Cage head, taking that cock from 6 to midnight with that skilled mouth of his. He lets Cage face fuck him before they both lose the rest of their clothes and Justin really gets into it, kneeling between Cage's legs and sucking on that long, hard dick.
Once Cage has had his fill of Justin's hot mouth, he lubes up and tells Justin to lie on his back, then pulls him to the end of the bed, spreads his legs wide and slides his prick inside of that tight ass, fucking him senseless. He takes him rough, covering Justin's mouth so he can't make a sound as Cage pounds him, then wraps his hand around Justin's neck and holds him down as he buries himself between Justin's legs.
Cage pumps his cock into Justin hard and deep, shoving his fingers into Justin's mouth and making him suck on them as he destroys that tight ass. Cage picks Justin up and places him on top of his cock, letting him ride that big dick and bounce up and down on it, and once Cage grabs Justin's cock and strokes it, Justin cums everywhere. But Cage isn't done with him yet, he penetrates Justin's hold one more time, getting in a few good thrusts before cumming between Justin's ass cheeks and pushing that jizz inside Justin's sore hole!