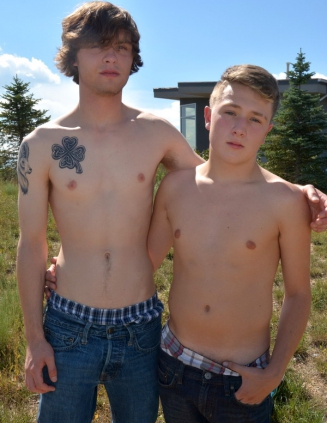 Ronan Kennedy and Brody Lasko are here to suck some dick today, and they get right to it! They start by getting in the mood with some kisses, making out as they stroke each other through their pants. When their bulge becomes visible, they stand up and get their clothes off as they grab one another's cock and rub it.
Ronan gets Brody on the bed and gets his dick in his mouth, sucking on Brody's cock and showing him how it's done. Brody gets to apply what he's learned, and he leans back and lets Ronan stick his dick into his mouth, thrusting gently as Brody struggles to take his whole cock. Once Ronan is confident that Brody has the hang of oral, the pair 69s and they both give and receive at the same time.
Ronan breaks up the 69ing and leans back on the bed, letting Brody at his dick again, and he runs his tongue along Ronan's thick shaft. Ronan wants a taste of Brody's meat again and he delivers some more amazing cock-sucking skills, using his mouth and hand together to make Brody moan for more until he shoots his load. Now it's Ronan's turn to get off, and Brody is there to help as he massages Ronan's balls while he finishes.