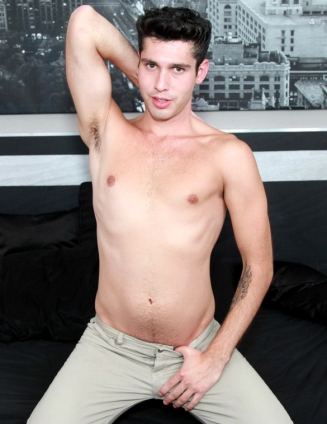 Sebastian Wilde is our newest Broke Straight Boy and he comes to us with no porn experience but that driving need for some extra cash. He's never even thought of being with a guy before, and even just shooting this solo scene seems to make him pretty nervous. Either way, we'll break this fresh meat in slowly!
He strips for us, taking off his shirt and pants and showing us his tall, lean and tan body then gives us a sneak peek at his toned, virgin ass. Once we set him loose and give him permission to start touching himself, he seems a little lost, but he grabs the lube and overcomes his nerves as he starts to rub his cock. It's not long before he drops his underwear and gets into it, yanking on that dick and then laying back in the chair to get a little more comfortable.
He plays with his balls as he strokes himself, tweaking his nipple a bit as he closes his eyes and enjoys the sensation. He makes one final move over to the bed where he jerks his prick harder and faster and shoots a thick load onto himself, rubbing his cock gently as he comes down from his high. Now that he's a little more relaxed…we're eager to get Sebastian paired up with a dude and see how he likes that!