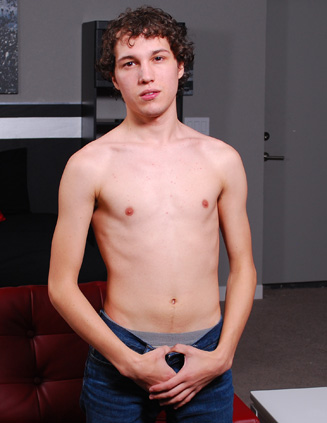 Please officially welcome Graham Brady to BSB land. The baby-faced 22-year-old is so low of funds he has no cell phone. He hails from a tiny hamlet that has few points of approval.

"From a small town that is very lame," he tells the cameraman.

Graham is here for reasons we all know way too well. His BSB funds are spent already (technically).

"Use it for my education. I know that sounds whack but you have to start somewhere."

The curly-topped lad is single. Seems like he's glad of that status because there are no kind words for his former lady friend. When asked what his favorite body part is, he gives an answer many will swoon to hear.

"I got a good butt," he announces. "See that butt," he demands as he gives a cheek a well earned slap.

As he takes off his clothes, Graham recounts his first jerking off session, Seems like when he was 12, he would pilfer his grandpa's porno stash.

"Well, one day I was watching it. And I just decided to start playing with it [his dick], and it escalated from there."

By the time the story is over, Graham is sitting down, in nothing but undies. He strokes himself through the fabric, looking at the camera with a real sexy look. He takes the underwear off and is semi-hard. After more stroking he's ready to play. The little vixen stares in the camera every now and then, knowing we are grooving to his show.

He prefers natural lube, so he spits in his hand. When asked to show his hole, Graham keeps his eyes on us. He's right about his ass being his best feature. Hopefully it gets used. Often.

He gets on the floor, the jerking getting more intense. He cups his balls and, from time to time, lifts his hips. When Graham is close, his mouth stays open. Like he wants a wet kiss on that sweet face. LOL! More spit is needed, and that does the trick.

"I'm about to cum," he moans.

His jizz shoots straight up. Some lands near Graham's nipple and the rest plops on the floor.

Whew! That was fun, no? LOL!