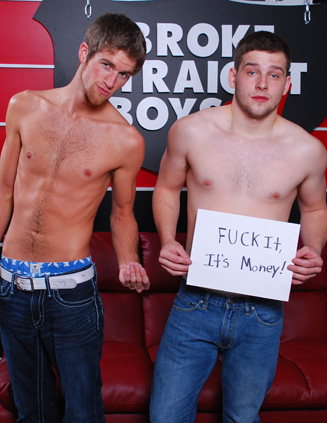 This post Valentine's Day update has two models who probably have broken more hearts than can be counted: Blake Bennet and Lucas Weston. Mr. Weston starts right in with his overacting.

"I'm not to excited about this, but otherwise I'm fine," he says.

He tells some tale about going out with some ladies and fucking two them. However, all of that was marred by memories of his BSB work.

"Ever since I've been doing this I start to get flashes of this shit in my head," Lucas explains. "It's weird."

Flashes, huh? Do you think Lucas also gets a raging boner? LOL!

Blake lacks his scene partner's histrionics. But going on cruises, and returning with tans, are known stress relievers. :-) This will be Blake's first time on our new couch.

"Break this thing in," he says.

When Lucas first started for us, he had this tale of needing cash to save the family homestead. Those days are apparently past. Blake lets us know what Lucas plans to do with today's earnings.

"He's already pulled up on Craigslist this chopper that he wants to buy," Blake explains. "And I'm like, 'You don't even have your money yet. What are you doing.'"

Clothes are removed, and the two stand next to each other in their underwear. Lucas is certain his white briefs are a sign of heterosexuality and Blake's boxers equal homosexuality. Lucas offers no academic proof for this theory, but seems committed to its application.

The two share a rather passionate kiss. When it's over, Blake offers the line of the evening.

"How is straight underwear working out for you."

Lucas can only grin at being caught in his own illogical reasoning. There is another round of passionate lip lock, with Blake feeling his partner up. Blake pushes Lucas back on the couch, and when underwear is tossed aside the one wearing the straight tight whites has a woody. LOL!

Lucas sucks first though, deep throating from the start. Blake can only nod in appreciation when the cameraman wonders how Lucas is doing. This is Lucas, so there's always some overacting about how much he's hurting from blowing a dude :-)

"Fuck, yeah," Blake instructs. "Just like that."

Lucas pulls up, with an operatic flair. LOL! Blake returns the favor rather easily. Notice how Lucas' eyes roll to the back of his head the moment lips touch his dick? And his pole sure plumps because of Blake's tongue.

"Fuck," Lucas whispers.

He grabs Blake's head and pushes down. Blake takes it all, with nary a whimper or cry.

It's fucking time, and Blake gets on all fours. Lucas saddles up behind him and gets some expert advice.

"Ease in, bra. Ease in," Blake warns.

When that fat sausage is in, raw, Lucas can't help himself. Starts long dicking his partner. Balls deep. Even smacks one of Blake's cheeks. The bronzed bottom moans and groans, taking each inch.

"Oh, fuck," Blake whimpers.

He gets on his stomach, and Lucas heads back home. The sound of the fucking is interrupted by the noise the couch makes.

"Oh, my God," Blake pleads.

Lucas gives the cheek another smack. Has Blake been fucked this hard before? Blake gets on his back. After some lube is applied in the right places, Lucas fills up that hole again.

"Pound my fucking ass," Blake demands.

A bossy bottom! Lucas does fuck the cum right out of Blake, a load ending up all over his abs. Lucas keeps pumping away until it's turn to bust. He pulls out, creaming Blake's stomach. But when he's done, Blake pushes that tool back where it should be.

Lucas is sweating and all, but his drama queen ways quickly return. That's OK. Willing to bet he's upset he wasn't fucked!