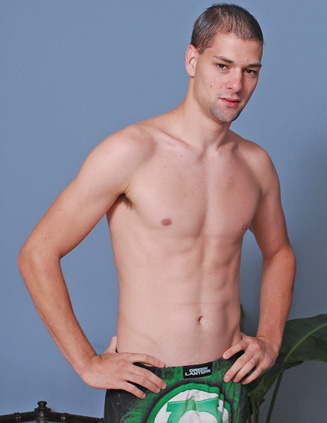 Depending on your point of view, John Silver's friends are either great or depraved (a little of both?). The newbie's buddies talked him into entering the BSB den. The single lad jerks off twice a day, so maybe he should pay us for today's session. :-)

He's a little nervous, but shouldn't be. He's got a cute face, a deep voice, and exudes straight boy hot mess. LOL!

After some stroking his uncut tool gets large. As in rather! LOL! It's understandable why its the favorite part of his body.

"That's a big dick," the cameraman observes.

"Yeah. They call me 'Big John' sometimes."

That's easy to believe! Would love to hear from the gals who gave "Big John" a shot at their no-no places. Did they survive the experience? :-)

John has a unique stroking method. He doesn't go fully up to the tip, keeping his attention on the bottom half of themighty shaft. Makes sense really. His hand has to travel a long way between his balls and head tip! LOL!

John might shave his pubes, but his legs still have their glorious hair (noticeable when their is closeup of his beefy dong).

He gives a glimpse of his hole. Looks all virginal and pure, but the way he bites lips might be a sign of an open back door policy. :-)

John gets on his side, still stroking. He picks the pace up, the sound of his balls smackingthose furry thighs fills the studio. He returns to his back, a position John seems to prefer.

He takes two fingers and sucks on them, using the spit as lube. Resourceful lad. His moans get louder and he starts to run his hand over his chest.

When he gets close he flicks a tender nipple. He mumbles something about cumming and jizz coats his belly.

So what say you? Should John Silver return and let a model have a chance at his sausage?