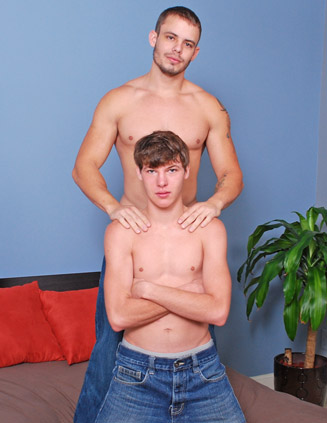 There are times when words, and introductions, aren't required. What hasn't been said about
Denver and Kodi? They've done it all, and kept many in the BSB family happy and contented
(grin). They share our studio bed and the two studs are kissing when the scene starts. Kodi is
wearing jean shorts with a red t-shirt. His partner has jeans with a multi-colored shirt. They lose
their tops and continue with the lip locking. Hard to tell who'smoaning, but someone is loving the
lip dance.

The kissing keeps up even after both are naked. These two could spend a whole vid making out
and it would still be stroke worthy.

Both are hard, but Kodi sucks meat first. Kodi is a premiere BSB model for a number of reasons,
but few can match his cock sucking skills. He deep throats and everything is wet and slippery.
Denver puts his hand on Kodi's head, but there's no need. The skinny lad goes downtown on his
own volition.

He must be feeling romantic today because Kodi comes up and plants another kiss on Denver. Kodi
looks so cute when he's hugging Denver. And Denver's arm looks like it was made to be around
Kodi's neck.

Kodi returns to Denver's bat and balls. Denver utters the first words of the scene.

"Suck that cock. Fuck."

Kodi's neck muscles bulge from the work. He comes up for air and Denver gives him a lip smack
for doing such a good job.

Denver puts Kodi's knob in his mouth and our dirty mouthed angel spouts filth.

"Fuck, yeah. Suck that fucking cock."

A few might prefer Kodi on his stomach, but his tool is towering. When it's at full attention it points
toward the ceiling; few can take it all. Denver gives it a go, but can only reach the halfway mark.

"Fuck, yeah," Kodi moans. "Lick that cock."

Denver pays close attention to the glossy head, making sure to lap it nice and slow.

After some more kissing, the boys prepare for the main course. Kodi lubes up his tight little ass,
and Denver rolls a condom on his johnson. He offers no mercy and fills Kodi up in two strokes. Our
bottom boy cries "oh,fuck" and looks like he's in pain.

"Oh,my god. Fuck," Kodi squeals.

Denver goes in and out, no matter the moans. Kodi never asks for his top to slow down. The
pain/pleasure is too sweet.

"You dirty fucker," Kodi says.

Denver grins and continues going balls deep. Kodi's spot must be getting hit right because his dick
is stiff.

The lads get off the bed, and Kodi stands against the wall. Denver slides up and reenters. Kodi grits
his teeth at the invasion, but encourages Denver to keep going.

"Fuck that ass," he orders.

Denver grabs his hair as Kodi's arms stretch up the wall. Filth streams from the bottom's mouth,
but Denver continues socking that pretty ass. Giving him what he needs. If Kodi could he would
bite the wall.

The rutting twosome get back on the bed, this time with Kodi's hairy legs in the air. His toes curl
when Denver goes in for time three. He might be grimacing and cursing, but his thick tool remains
hard. It looks like it will burst on its own accord.

"Fuck yeah," Kodi says.

Denver short stabs that delicious man hole, and it proves too much for Kodi. His load erupts all
over his abs. Denver pulls out (such a considerate top!) and jerks himself. His juice lands right
above Kodi's pubes. Both chuckle at the amount of goo Denver loses.

We end where we started, with the boys kissing.

So here are a few questions: 1) which model should Denver and Kodi perform with for a scorching
three way, 2) do you like it when experienced BSB thespians start right out of the gate, 3) would
you watch a vid with two guys just kissing, and 4) can Denver and Kodi get any freaking sexier
(grin)?