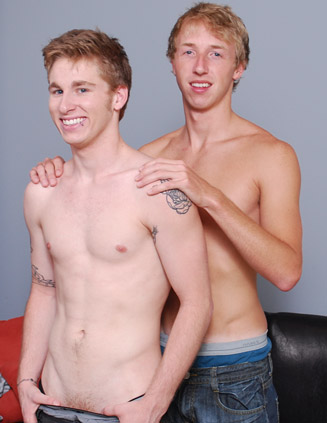 It's been too long since Tim has been in front of an BSB camera. Last time he was here, he gave it
up to studly Conner. Tim must have been hitting the gym recently because our lithe blonde looks
all types of fine. Today he's paired with Liam and Tim is all smiles. Actually he's always grinning
which makes him a much admired performer.

Liam talks about the last time he was in front of a camera. Kodi fucked him and apparently did a
damn good job.

"It was so so," Liam says when asked how the screwing went. "I mean I couldn't walk for a little
while, but other than that it was good."

It was more than good because our pale skinned lad is back for another saddle ride. The
cameraman says its "showtime" and the two get undressed to their skivvies. They pull their puds
and Liam can't help himself. He sneaks some sly looks at Tim's package.

Liam gets hard first. Mmmmmmm. Wonder why?! Tim reaches over and starts slurping. Pay
attention to Liam's face when Tim starts sucking. It might be the start of the scene, but someone is
in heaven already.

Here is why Tim gives such good blow jobs. He knows to keep it all juicy. He can't deep throat
without choking, but his mouth is full of spit and pre-cum. Notice how many times he has to wipe
all that goodly mixture from his mouth? Also he's energetic in his duties. Bobbing that head up and
down. His ministrations get the best of Liam, making Liam's toes curl in excitement.

Soon it's Tim's turn to lean back and enjoy some oral loving. He puts his hands on Liam's head and
shoulder, making sure Liam takes as much of Tim's tube steak as possible. He instructs Liam to "go
all the way down" and when he does Tim's trademark smile appears.

Liam has learned a thing or two about pole sucking since he's been with BSB. Like Tim, he keeps it
all wet, and licks the head like an ice cream cone. When he comes up for air, Liam keeps stroking
Tim. Making that thick tool all slick. And we all know where a wet wicker eventually ends up?

Liam gets on his knees, facing the wall. He offers his ass for the taking, but he's a bit nervous due
to Tim's rather impressive endowment.

"Are you ready." the cameraman asks Liam.

"We'll find out," Tim chuckles, answering for his soon to be made bottom.

"I might let out a little of a shriek," Liam confesses.

Tim puts his engorged head at Liam's hole and pushes in. There is no shriek. Instead we hear the
gratified sob of a bottom boy who is finally home. The camera zooms out, and Liam's eyes are
closed. He's groaning like he doesn't want Tim to to ever stop. In fact, when Tim does pull out (as
a considerate top he wants more lube), Liam's face is nothing but discontent.

When Tim returns to fucking, he deep strokes Liam.

"That is so tight," Tim mumbles.

"You like that," Liam inquires.

Tim only chuckles in response.

"I like your cock in my ass," notes Liam.

"It feel good," Tim asks.

Liam can barely whisper his answer.

Our dynamic duo change positions, Liam sticking those sexy furry legs toward the heavens. Tim
gets that boner back into Liam, going balls deep. The studio is filled with the smacking of skin and
contented cries.

"Fuck my hole," Liam commands.

Tim pushes his bottom's legs closer to his chest and pounds that boy hole as asked.

"You're going to make me cum if you keep doing that," Liam murmurs.

Tim keeps doing what he's doing and soon, Liam spurts all over his leg, stomach, and the couch.
Our lean top pulls out, and shoots his load on Liam's stomach, thigh, and dick.

Both boys express extreme contentment with the scene. Tim's big old smile says it all. As for
Liam? Anyone want to bet even if he can't walk the next day he won't mind the sweet ache?