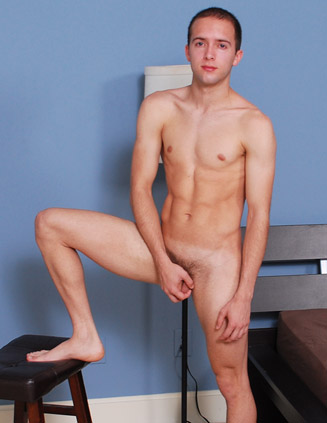 If you like your straight boys nervous, Brandon is your lad. When he talks it's hard to hear due to
his mumbled whisper, and his laughs are all timid. Plus this is no chatty Cathy model. Keeps all his
responses to monosyllables at best.

He shouldn't be uneasy because he has the goods. Cute face, killer abs, and a backside that needs
loving. Brandon says he's recently single. Straight girls? Is life so good you can give up on guys
like this?

After taking off his clothes, Brandon jumps on the bed. Notice his long limber legs? They would be
so perfect pushed to his chest as.... Oh, wait. Sort of got lost there.

He's uncut and starts stroking. It takes some time to get the blood flowing, so to speak, but soon
enough he forgets the camera and has a good time.His dick is not ginormous, but does have some
thickness and looks tasty. A user-friendly dick.

As he fondles his flesh toy, Brandon reaches up and caresses his nipples. Wonder if his former
girlfriend played with those tits. Hope so because those morsels need a good tasting.

Brandon is no moaner, but does occasionally bite his lower lip. Looks even more adorable doing that.

When asked to show his splendid ass, everything stops. Straight boys are so silly about gluteus
maximus attention. For a moment it looks he'll run from the set. Instead there's a sheepish smile,
and he shows the goods. Don't know why he's bashful. His ass is his best asset.

The camera zooms into that virgin hole. Brandon gives another surprised look when asked to play with
his tush. He does, but, unfortunately, doesn't stick a finger in the pucker. However, something must
be right. At the start of the video, Brandon noted his uncomfortable level was a 9 out of 10. After
some rear end play, it was an 8. Granted only one digit, but could it have considerably decreased if
he had stuck in a middle digit?

Soon it's cumming time, and goodness gracious! It just spews out of the lad. The load is so big he
must have been saving it for weeks. Either that or his nervous level dipped real low.

So what do you think? Should Brandon get a return ticket to see what else he's willing to do?