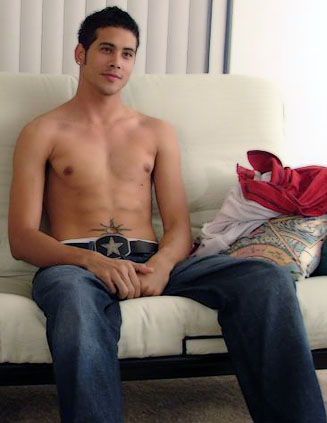 Mauricio is back for another shoot and this was after he did a solo shoot with us. He had a good time
doing the shoot and was glad to be back in front of the camera again. I introduced him to Angel and
explained to them that I wanted to see how good they looked together before I put them with a girl.
Mauricio was pissed with me that I did not have a girl there and that I was trying to trick him. He
actually tried to get up and walk out on the shoot, because he wanted the girl there. Of course, my
job is to push buttons and see what it going to take to get the two of them to interact with one
another on camera. So, I asked Mauricio what it was going to take for the two of them to interact
with one another.

Mauricio stood in front of me and kept crossing his hands and swinging them trying to figure out what
to do and where to go from here. I explained that this was going to be a one time thing and he said
that he wasn't going to do it for less than $1000. He was going to top in the scene and didn't want to
do anything affectionate in the shoot with Angel. He had changed his ways and now he didn't want to
bottom and go back to what he was going before. Of course, when I get done with Mauricio, Angel
wanted to know what he was going to get for doing the shoot and bottoming. I told Angel that I
would pay him the same thing, especially since he had never been fucked before, and this was a first
time experience. Both guys were going to take it easy.

I had the guys start to get undressed, while they were watching a video. I explained that they just
had to jerk off, and get a hard, give a little head, and then fuck. Both guys looked at me about the
head, but said that for $1000 dollars they would do it. They jerked each other off for a minute and
both of them got hard. It usually takes me telling them what to do before they will do it. I told Angel
to suck on Mauricio's cock. He bent over and took the monster cock in his mouth. He proceeded to
use his mouth on the top part of the penis and his hand on the lower part. For the first time, Angel
did a good job, and Mauricio even complimented him on the work.

Times had turned and now it was Mauricio's time to suck his dick. Angel was a little limp when
Mauricio took it in his mouth. He said that he hadn't sucked dick in a while and couldn't really get
Angel hard with his mouth. Mauricio was harder than a rock and so he told Angel to suck it some
more. Loud breathing and moaning came from Mauricio as he was enjoying the blow job. They
reached over at one point and jerked each other off. You can see that Mauricio has a giant dick
because we probably could stack three hands on top of each other to show how big he was.

Angel went on his back and Mauricio got in behind him and started to inch his way into Angel's ass. At
the time it was a hard call for me to make if I should capture the actual penetration or if I should go
for Angel's facial expressions. I was glad that I went for Angel's face because the looks and sounds
he gave me when that dick was going in his ass for the first time was priceless. He was in pain
people, pure pain, with that 10 inch penis going in his tight little ass I knew he was. However, lets
face it, pain is good when you are wanting to fuck and get nasty. Mauricio had to sit there for a
minute to let Angel adjust and get use to it. Angel placed his hands on Mauricio's thigh to tell him to
slow down.

I had them switch positions to see if we could find anything better, and so they got into doggie style.
Mauricio got his dick in his ass and he did not stop he got it all the way in and then he started to fuck.
Angel was in pain, but the good thing about it guys don't like to admit it and especially on camera
they want to look like champions. Mauricio picked up the speed and seemed to go pretty good for a
while and I was enjoying the show that the two of them were putting on. There was some bleeding
and Angel had to go to the bathroom to clean up and while he was in there, I changed the sheet to
get ready to rap up the shoot.

When they returned to two guys started to jerk off and I said that it is always good to end with hand
jobs or blow jobs. Mauricio laid back and told Angel go at it again and suck his dick. Angel had the
look of sucker on his face, but bent over and took the dick in his mouth. He went for a short time,
but then both guys went to jerking off to the porn. Mauricio was the first one to cum and he made a
mess on himself, even getting some on his upper arm. It was now time for Angel to cum and he was
busy concentrating on just the T.V. He was taking a while and I was getting frustrated with him that
we were waiting. All of a sudden I heard him deep breathing and he came on his stomach and I was
so pissed with him for not saying anything. I was disappointed that I didn't get to capture the whole
thing on tape. Although, it was a hot scene and I was glad to see some fucking in this shoot. Stay
with us to see if we can get Mauricio the girl he wants in order to get him back on camera for us
again.