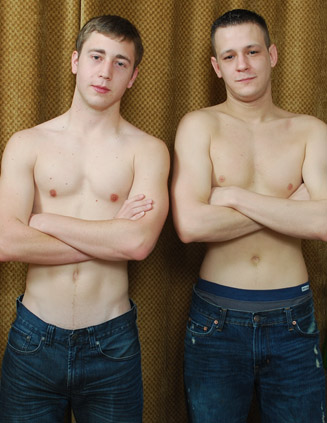 Brandon is back in the studio, along with the ever popular Jason. While Brandon isn't too keen on trying out the oral aspect of guy
on guy sex himself, he is very curious as to whether Jason will be able to fulfill a fantasy of his; having his dick deepthroated. As
soon as Jason heard this, he took it as a personal challenge and said he would do his best. The two boys stood up, Jason taking off
his t-shirt before helping Brandon take off his striped tank top. Jason then went on to undo Brandon's jeans, pulling his dick out
from the confines of the tight denim and gently playing with it. Brandon wasn't too sure what to think about another boy groping his
goods but was obviously willing to go with the flow and try new things. A moment later, Jason knelt and pulled Brandon's jeans off
completely. Hopping back up onto the bed, the boys sat side by side, Jason still clad in his jeans while Brandon was completely
naked.

With a tight grip on Brandon's cock, Jason slowly pumped the stiffening shaft. As Jason encouraged the cock to stand to attention,
Brandon couldn't help but watch even as he admitted that it felt pretty good. Leaning down, Jason licked a long stripe up the length
of Brandon's dick before swallowing it right down. Jason pulled out all the stops; twisting his head this way and that in order to get
the cock nice and hard. Brandon leaned back and relaxed into the feel of having a hot, wet mouth on his dick. However, the instant
Jason deep throated, Brandon had a grin a mile wide. With a heavy hand on the back of Jason's neck, Brandon encouraged him to
swallow it all, Jason just taking it in his stride like a complete professional. Pausing for only a brief moment to take off his jeans,
Jason bobbed up and down on the thick shaft as he introduced Brandon into a world of pleasure. Once more, Brandon pushed
Jason's head down but Jason simply let the long dick slide all the way down his throat with ease.

Moving to kneel on the bed, Brandon groaned in excitement as Jason slid the thick cock into his straight boy mouth again. There
was no doubt that Brandon was loving the feel of Jason's mouth around his dick, all the while, Jason proved he was skilled at
multitasking as he jerked himself off. Every now and again, Jason mixed it up by pumping the hard shaft or taking the time to
leisurely lick up and down the long length. When Jason came up for some much needed air, I suggested that Brandon get his ass
eaten out for the first time and without skipping a beat, Brandon said he was up for it. Turning around and gripping the head board
of the bed, Brandon waited for Jason to make his move. Jason gripped Brandon's ass cheeks and pulled them apart, showing off
Brandon's virgin ass hole. Spitting onto the hole, Jason quickly went to work as he lavished the hole with attention. Wrapping a hand
around Brandon's cock, Jason lightly flicked his tongue around the hole before licking broad stripes up and down. Brandon,
although very quiet, had to admit that the rimming felt pretty good. With his eyes closed, Brandon looked like he was in his own
private fantasyland as he enjoyed feeling his ass being broken in by a very skilled tongue. Meanwhile, Jason was hard at work even
as he wanked himself off, pausing only to say that Brandon's ass tasted good. Brandon laughed and said that out of 10, Jason's
skills were at least an 8.5 which earned Brandon a hearty slap on the ass.

Turn back around, Brandon said it was time for more dick sucking which only made Jason grin in agreement. Jason immediately
opened wide and swallowed Brandon's cock all the way down, much to Brandon's pleasure. Bobbing up and down, Jason tugged on
his own dick in a hard and fast rhythm. As he got closer to cumming, Jason indulged himself a little by taking the opportunity to lick
and kiss Brandon's nipple before sucking dick again. By now, Jason was panting around the cock in his mouth and as if almost on
cue, the moment Brandon made Jason to deep throat, Jason shot his load all over his stomach and hip. Now it was up to Brandon to
show off his cum shot. Gripping the cock in one hand, Jason pulled out all the stops in an endeavourer to push Brandon over the
edge. With a fierce expression on his face, Brandon took control of his cock and jerked himself off at a furious rate. Moments later,
Brandon unleashed a torrent of cum over Jason's cheek, mouth and tongue. Jason, always willing to go the extra mile, then took it
upon himself to lick up all the cum on Brandon's stomach and cock.