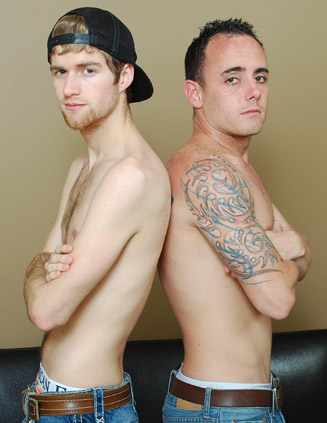 Blake Bennet is back in the studio along with a blast from the past, Ty, who hasn't been seen for
quite a while. The two boys were ready to get things started and even though Blake said he was
nervous, it was obvious he was also looking forward to expanding his horizons. Ty and Blake stood
up, peeling off their t-shirts and throwing them on the ground, however, Blake decided to keep his
cap on. I asked if Blake had ever been caressed by another guy and as he said no, Ty took the
opportunity to run his hand over Blake's abs and then cup his crotch. Sitting back down, side by
side, Blake wasn't sure what to think when Ty kept gently stroking his bare chest and stomach. It
was clear that Ty found Blake to be attractive, so much so, that Ty had no hesitation in undoing
Blake's belt and sticking his hand down Blake's unzipped jeans. Sliding his hand underneath the
waistline of Blake's boxers, Ty started to play with Blake's dick, working on it to get hard. A
moment later, Blake took off his jeans while Ty did the same. Both boys were now in their underwear,
Blake asking if Ty had done this type of thing before, Ty answering he had. Ty helped Blake out of
his boxers before grabbing hold of Blake's dick and telling him that he had a nice package,
something that made Blake laugh.

Leaning over, Ty licked a long stripe up the length of Blake's cock. Ty licked and sucked on the
head of the dick, pulling off after only a brief minute and exclaiming that Blake got hard pretty
quick. Blake didn't even try to deny it and instead, grinned widely as Ty swallowed him all the way
down. From Blake's perspective, he was getting the best blowjob of his life, even if it was from
another guy. Ty bobbed up and down on the rock solid dick as he made sure to tease the piss slit
with the tip of his tongue. The was no doubt that Ty loved the taste of cock and he licked, nibbled
and sucked on Blake's dick like it was his favorite candy. Sliding to his knees on the floor, Ty was
encouraged to go all the way down again by the feel of Blake's hand on the back of his neck. As Ty
was lavishing attention on his dick, I asked Blake if he would give Ty a handjob. Staring like a
deer caught in the headlights, Blake recovered quickly, saying that Ty actually deserved the help
even as he wrapped a big hand around Ty's thick shaft. Not really familiar with the feel of another
man's dick, Blake nonetheless started putting in some hard wrist action, much to Ty's pleasure. It
was a bit of a difficult position so Ty stood up and shifted in closer to Blake. As he stroked Ty's
cock, Blake couldn't help but watch as his hand slid up and down the long shaft even as he slowly
jerked himself off.

A moment later, Ty gave Blake the shock of his life when he hinted that, maybe, Blake could return
the favor. Blake was at a loss for words but did say that he wasn't going to be as good as Ty. Ty
told him not to worry, sitting down next to him on the couch. With Ty's dick in his hand, Blake gave
the cock a few pumps before leaning over and daring to dab at the cock head with the tip of his
tongue. Very hesitantly, Blake opened up his mouth a little wider and started to suck cock for the
first time in his life. Although he wasn't too sure what to make of the feel of a dick in his mouth,
Blake was doing well for a cock sucking virgin as he had Ty moaning in pleasure almost immediately.
Sliding the dick in and out of his mouth, Blake pumped the shaft every now and again as he got more
comfortable with the fact he was sucking on a dick. In a daring move, Blake tried some deep
throating and did well to go almost all the way down on his first try.Ty told him to try a little
harder and with a grin on his face, Blake quickly bobbed up and down on the cock even as he pumped
the shaft. As Blake licked around the head of the cock, Ty gave the camera a hearty thumbs up. Soon
enough, Blake had the rhythm down, making Ty pant like a bitch even as Ty jerked him off.

All too soon for Ty, Blake had to pull off as his neck was getting cramped. Blake sat back against
the sofa as Ty got down onto his knees again and started licking Blake's dick. Making sure to pull
out some of his best tricks, Ty lavished attention on Blake's heavy balls. As Blake relished the
feel of Ty's tongue sliding wetly up and down his shaft, I asked Blake if he could get himself off
while sucking Ty's cock. Although taken aback at the question, Blake rose to the challenge and said
he could do it. Sitting on the edge of the sofa, Blake had a cock in his mouth even as he jerked
himself off at a fast and furious pace. By now, Ty was panting hard as Blake worked up a sweat,
juggling two cocks at once. It looked like Ty might be the one to pop off first as he was totally
getting off on watching Blake suck on his dick. However, all of a sudden, Blake shot high into the
air, the cum dribbling down his shaft and inbetween his fingers even as he continued to bob back and
forth on the dick in his straight boy mouth. Taking back control of his cock, Ty's hand flew up and
down his shaft even as he asked Blake if he could cum over his face. Blake, laughing in
embarrassment, took off his cap and got down on his knees in front of Ty. A moment later, Ty shot
his load all over Blake's cheek, the cum rolling down his face and neck.