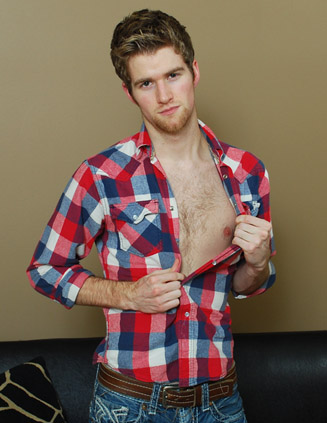 The latest hot new addition to Broke Straight Boys is Blake Bennett who is fresh off the airplane
and into the studio. While Blake is admittedly tired from his early flight, from his wide grin, he's
looking forward to showing off his wares. Due to college, he needs some quick cash, thus, the solo
session. As we were chatting, I asked Blake to describe his dick. Blake was a little taken a back at
the question, saying his dick was just that... a dick. When I asked him if his dick was tasty, Blake
couldn't help but laugh in embarrassment even as he replied that some girls he had been with had
told him his cock was pretty tasty. Standing up, Blake burst out laughing when I told him to
unbutton his shirt but make it slow and sexy. Grasping his shirt in both hands, Blake slowly
snapped the buttons on his flannelette shirt even as he said that none of his girlfriends had ever
told him how his cum tasted.

I got in close with the camera, panning slowly down the lush hairs decorating Blake's chest and
zeroed in where Blake was teasing his right nipple with his fingertip. Taking off his shirt and
dropping it onto the ground, Blake revealed a very slender upper body with prominent collarbones.
Showing off his hairy armpits, Blake just grinned as if he couldn't believe he was doing all this
for some easy cash. At my prompt, Blake shot the camera a seriously sexy look and said that he loves
to jerk off, even admitting that he did it up to three times a day. Unbuckling his belt and
unzipping his jeans, Blake said that he had to have porn in order to jerk off. As he stepped out of
his jeans, Blake cupped his dick and balls through his boxers, gently massaging them before pulling
down the waistband and presenting his dick for inspection. He tucked his dick back into his boxers
and turned around, pulling his boxers down so that the BSB members could get a good view off his
ass. I told him to give his ass a slap, which he did even though he was clearly blushing. However,
at my request, he managed to have a fairly sultry expression on his face as he gave his butt another
slap, all the while, eye fucking the camera.

Turning back around, Blake pulled his cock and balls out through the front of his boxers before
sitting back down as I told him it was time to get the show on the road. With his boxers still on,
Blake dolloped some lube on his dick and started to massage it into his cock shaft. For someone new
to a studio environment, Blake was able to get his cock ramrod stiff in a matter of only a minute or
two. As he slowly pumped his dick, Blake slapped his cock a couple of times against his abs,
obviously relishing the feel. His hand sliding up and down his slick shaft, Blake described his
perfect blowjob from a girl, saying that the girl should only swallow him half down and should twist
her tongue around the head while jerking him off.Panting heavily, Blake then gave a demonstration
of how it should go. Standing up again, he slapped his cock down hard against his palm, something
that only helped to increase his excitement.

Spitting into his hand, Blake slicked up his dick again as he put in some hard wrist action. A
moment later, his boxers hit the floor and Blake was now completely nude. He massaged his butt cheek
as he jerked himself off, only pausing once or twice to refresh the natural lube. The more turned on
he got, the bolder Blake felt and there was no doubt that he was feeling more comfortable with
the camera being around. Reaching up, Blake pinched his nipples, swapping from side to side as he
got off on the electrifying sharpness each time he twisted a nipple. Blake sat back down on the
sofa, relaxing against the arm as he got down to serious business, his hand flying up and down his
thick shaft. By now, Blake had worked up a heavy sweat and precum dribbled down his shaft. In a bold
move, Blake dabbed a fingertip into the precum and then licked his finger clean. Grinning, Blake
said that it tasted 'kinda sweet' and that it wasn't too bad. Shifting up onto his knees and with
another dollop of lube, Blake stroked his cock with a vengeance as he worked towards showing off his
shooting skills. Only a minute later, Blake panted as jets of cum shot over the
couch seat and into Blake's outstretched hand.