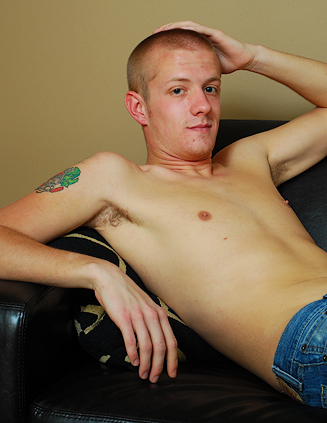 Jake is the latest boy to hit the couch at the Broke Straight Boys studio. He has been kicked out of his parents home and obviously, he needs to make some money. Despite a false start due to nerves, Jake is ready to give the BSB members a show they can remember. Jake readily admits he's a quiet guy and that it's just his nature. Standing up, Jake took off his t-shirt, revealing a slim build and a tattoo on his upper right arm. Going in for a closer look, I could see that the design was dedicated to biblical verses. Jake's socks and jeans were next, leaving him in just his white undies. Sitting back down on the sofa, Jake stuck his hand down the front of his undies and started to play with his dick.

Even though Jake said he didn't jerk off a lot, as he watched the straight porn, it was easy to see that his cock was getting stiffer by the second. Pausing only to lube up his shaft, Jake had a rock solid dick in only a matter of minutes. The front of his white underwear pulled down, Jake showed off his stiffy and shaved balls before taking off his undies and getting comfortable on the couch. Watching the porn intently, Jake leisurely stroked his dick as he got closer and closer towards showing off his cum shot. Standing up, Jake fisted his dick in long, slow sweeps of his hand, allowing the camera to get in for a close up before sitting back down again. Legs spread wide, he worked on chasing an orgasm as he got off on watching what was happening on screen. Slowly twisting his dick this way and that, Jake relaxed back against the sofa.

It wasn't long before Jake looked like he was about ready to cum for the camera as he stopped watching the porn and instead, was mesmerised by the way his hand slid up and down his slick cock shaft. By now, Jake was sweating from all his hard work and sure enough, he was panting heavily as he wanked himself off at a harder, faster pace. Only moments later, cum rolled down his shaft, dribbling from inbetween his fingers. Jake did a great solo for his first time in front of a camera and I'm sure he will be back in the studio in no time at all. Let's just guess what we can encourage him to do next time?